A Fake Evangelical Con Man Pastor Jesse Duplantis Claims That the Reason Jesus Hasn't Returned Is Because People Aren't Donating Enough Money,The Prosperity Gospel Lunatics 
SRH: Many televangelist scandals are rooted in misappropriation of funds, using the money they shouldn't be for their own personal gain. A lot of the televangelists who people have negative opinions of teaching the "prosperity gospel," which is a distortion of the true gospel. Ministers of the so-called "prosperity gospel" may make false and exaggerated promises for the sake of receiving financial donations: "If you give me ____, God will multiply it and give you _____ (usually money)." The greed within them causes them to speak falsely and distort the Word of God for their own selfish purposes, whether they realize it or not. Viewers may see some of these preachers flaunting their wealth, but are less certain if their donations are truly being used for kingdom purposes. First Timothy 6:9–10 warns: "But those who desire to be rich fall into temptation, into a snare, into many senseless and harmful desires that plunge people into ruin and destruction. For the love of money is a root of all kinds of evils. It is through this craving that some have wandered away from the faith and pierced themselves with many pangs." In reality, the Bible promises us hardships and persecution (John 15:20; 2 Timothy 3:12). True believers recognize the error of the "prosperity gospel" teaching, but some less mature believers are enticed by its lure and end up jaded and disappointed later.
False doctrine debilitates the church for times of difficulty, while sound doctrine equips the church for times of difficulty. By the time Paul sends his second letter to Timothy, he is anticipating a time when churches will no longer tolerate truth. "For the time is coming when people will not endure sound teaching, but having itching ears they will accumulate for themselves teachers to suit their own passions, and will turn away from listening to the truth and wander off into myths" (2 Timothy 4:3-4). How should Timothy prepare his church for such a time? By preaching the Bible and teach ing the doctrine it contains. "Preach the word; be ready in season and out of season; reprove, rebuke, and exhort, with complete patience and teaching" (2 Timothy 4:2). Nothing better equips a church for times of trial than the Bible's deep doctrines.
MY MISSION IS NOT TO CONVINCE YOU, ONLY TO INFORM…
Evangelical pastor claims that the reason Jesus hasn't returned is because people aren't donating enough money.
HNewsWire: Fake Evangelical pastor Jesse Duplantis claims that we must make significant financial sacrifices if we want Jesus to return.
Duplantis made the outlandish claim that the delay in Jesus's return is due to people not giving enough money to their churches during a four-day, live 2021 TV event inVictorython on the Victory channel.
He said, "When you realize that people aren't giving the way God told them to give, you'll be able to hasten the coming of Jesus Christ."
Who knew the divine son would be so concerned with making a profit?
Duplantis elaborated on why everyone should call the donation number at the show's conclusion: "God the Father would say, 'Jesus, go get 'em.'"
"I learned the hard way that I will not inspire people to donate because of my emotional appeals," he said. People will begin to relocate in accordance with God's Word. Is God trying to tell you something?
I'm serious when I say that I think God the Father would tell Jesus to "go get 'em" if enough people called this number and broadcast the news of this victory around the world. To put it simply, he is just as eager to see us as we are to see him. People aren't doing in the economic realm what God's called them to do, and that's a big problem because we live in an economic world.
Therefore, neither giving nor receiving is a problem for me. It's irrelevant," he went on. I've finally made up my mind; I pray that Jesus will intervene.
Right Wing Watch, a Twitter account that "monitors and exposes the activities of Radical Right political organizations," retweeted an excerpt of Duplantis's speech.
Since then, it has sparked a firestorm of criticism, with many calling Duplantis and his peers "con artists."
Do you really think that? It baffles me that some people can't grasp the concept that you don't have to pay for the luxu... https://t.co/yN2FCBczVY
Tweet by: 1632476931 Cynthia M. Vatani
Consequently, many people view Christianity as a joke because of this. Things like this make me angry https://t.co/XS57D9ysQ7
Right-Wing Watch 1632455408 @Shon (@Shon) These pseudo-Christians have hijacked the Bible and turned it into a sales pitch for... https://t.co/kSIgY0ch4B
— 3JT (@3JT) 1632338475
And we're wondering why Christians have a bad rep.... SMH https://t.co/faGuACXoJL
— Mikeal Gordon (1632403168), on Twitter
Sobering to think that some low-income listeners are giving @jesse duplantis their last $10 rather than ta... https://t.co/8WFMZ0jigm
The following is a tweet by: Luke Barnett (@LukeBarnett) from 1632375064:
The best con artists ever, perhaps. https://t.co/ZfYj2Ld5B0
Andre Medeiros 1632426470 @AndreMedeiros
By imposing a tax on these cretins' ministries, we can "hasten" Christ's return. https://t.co/axW8l39hex
With thanks, Alec Rodriguez (@AlecRodriguez) 1632459197
He already has multiple million dollars, but this mf is still asking for donations. https://t.co/bdjUQeUdHp
As tweeted by Derrick E. Jones (@DerrickEJones) on 1632354055.
There's no doubt that pastors have a lot of responsibility on their shoulders. Getting rich is likely the last thing on most preachers' minds; however, some persons of the cloth have accumulated their share of riches through public speaking, books, network TV shows – and of course, the collection plate. Here we'll look at 10 of the richest pastors around, their net worth, and just how they accumulated their fortunes.
10. Joyce Meyer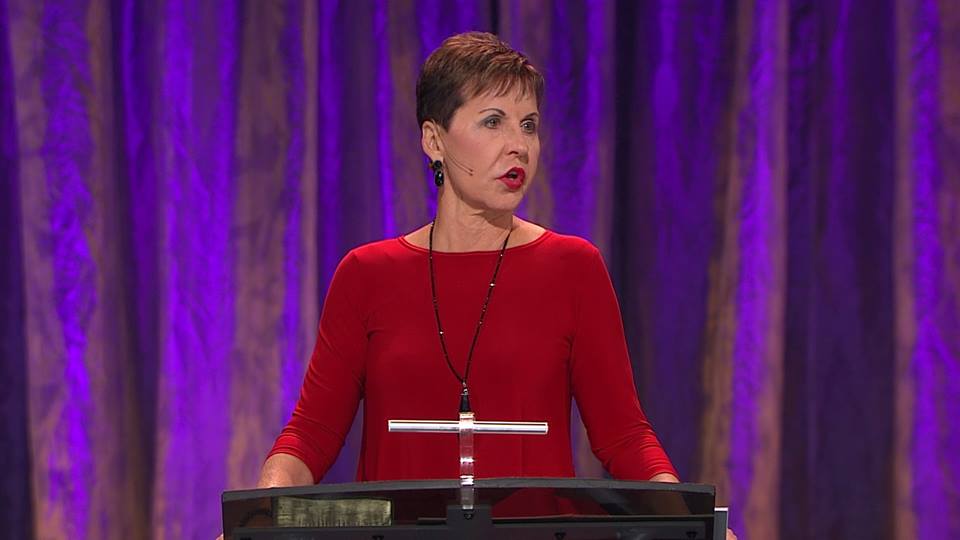 She owns a private jet and several homes. | Joyce Meyers Ministries via Facebook
During a childhood of sexual abuse, Joyce Meyer became a born-again Christian while in elementary school. She started teaching Bible classes that eventually were broadcast on the radio. In 1985, Meyer formed her own ministry, Life in the Word, and she also began airing a weekly TV show, Enjoying Everyday Life in 1995. She has a net worth of $8 million, according to Celebrity Net Worth.
Meyer, 74, travels to public speaking engagements on her private jet. In 2004, a St. Louis Post-Dispatch article listed her and her husband's assets, which were reportedly all paid for by her ministry. They included her $10 million jet and several million-dollar homes, as well as a $107,000 silver Mercedes. After receiving criticism for these financial perks, Meyer announced plans to take a reduced salary and derive more of her personal income from her outside book sales.
Next: A spiritual adviser to the presidents is a multimillionaire.
9. T.D. Jakes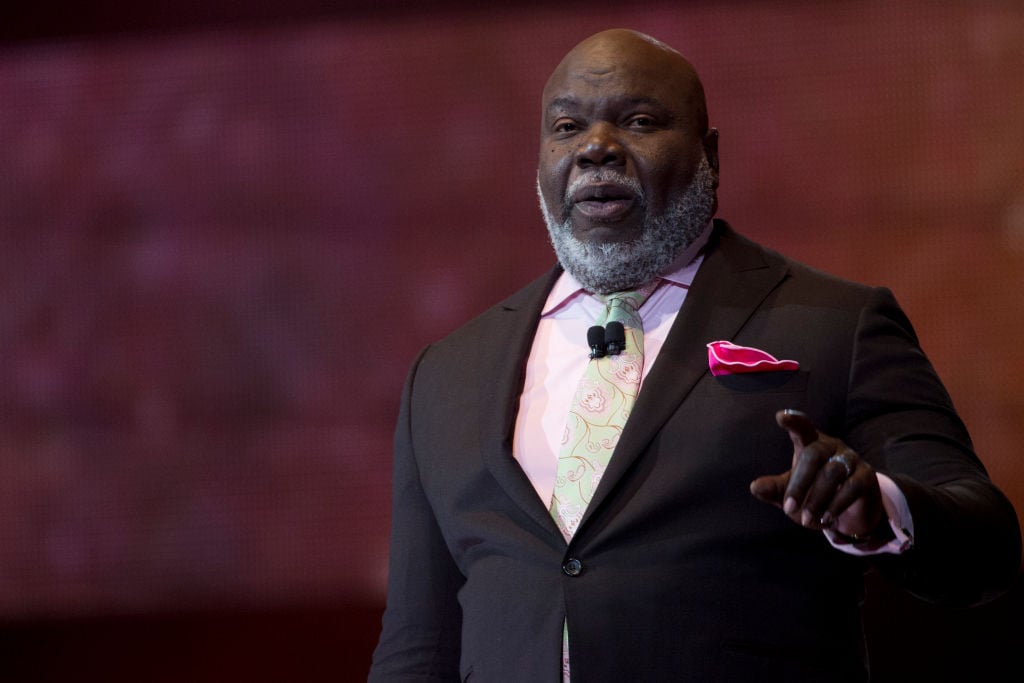 He's friendly with the presidents. | Cooper Neill/Getty Images for MegaFest 2017
T.D. Jakes spoke at the inauguration of President Barack Obama in 2009. He also accompanied President George W. Bush to areas affected by Hurricane Katrina in 2005. Jakes founded The Potter's House, a nondenominational megachurch. His sermons can be seen on Trinity Broadcasting Network and other religious channels.
Jakes' net worth has been estimated at $18 million. He talked about his wealth with Oprah in a 2012 interview, and stated that he draws income from his megachurch, in addition to earning money off his best-selling books and producing movies.
Next: Preaching runs in this wealthy family's blood.
8. Franklin Graham ,It should be noted Mr. Graham is not part of the prosperity gospel community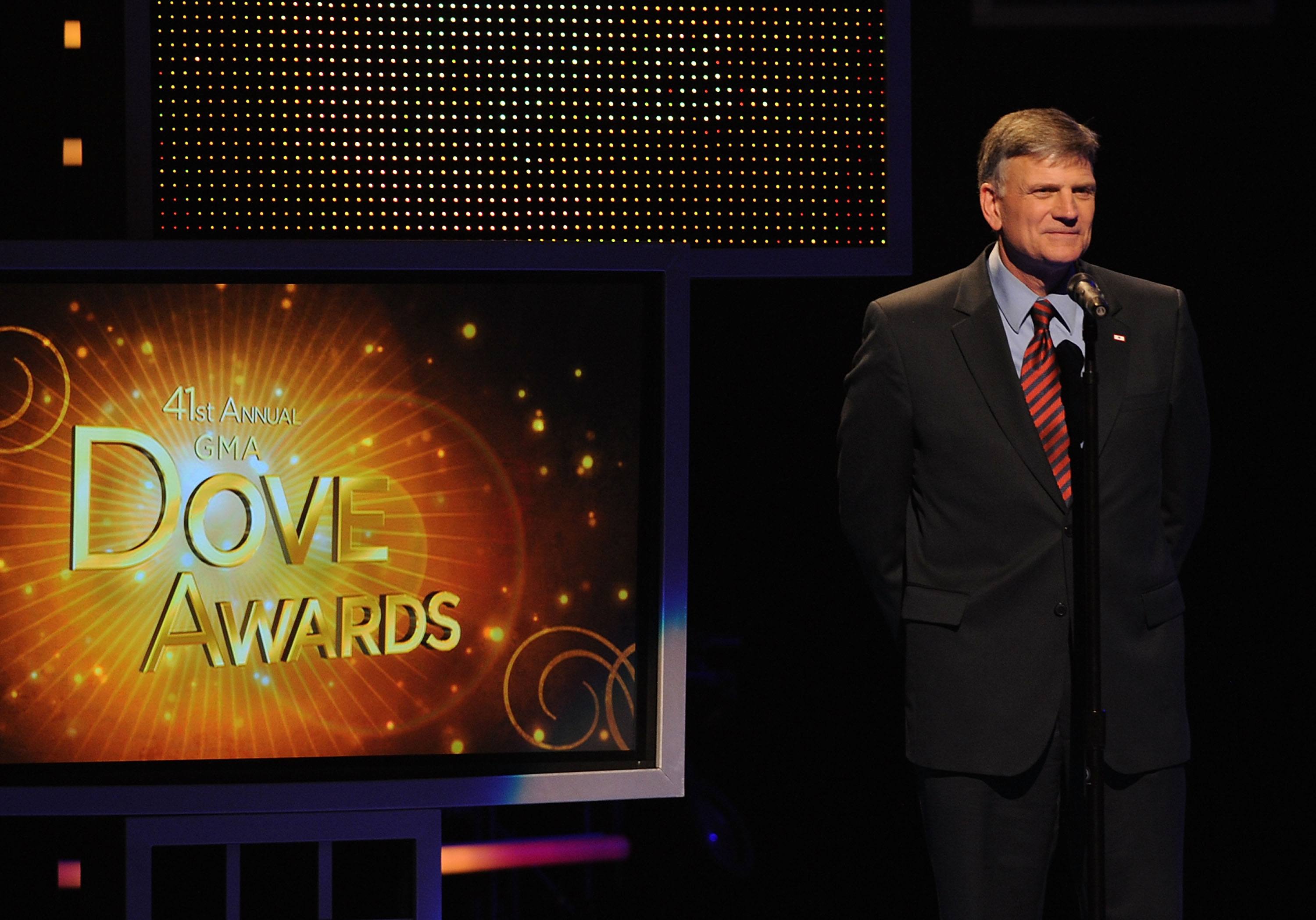 Rick Diamond/Getty Images
Although Franklin Graham is an evangelist and son of well-known pastor Billy Graham, he didn't convert to Christianity until he was 22 years old. He eventually went on to take over organizing events for the Billy Graham Evangelistic Association, of which he is now CEO and president. He has also authored many books and frequently takes part in Christian revival tours. His net worth is reported as $10 million.
The younger Graham, 65, came under criticism for calling Islam "a very evil and wicked religion" after the September 11, 2001 attacks. He came under further scrutiny when he remarked, "True Islam cannot be practiced in this country. You can't beat your wife. You cannot murder your children if you think they've committed adultery … which they do practice in these other countries."
Next: This rich pastor lives on 10% of his income.
7. Rick Warren
He donates most of his money to charity. | Alex Wong/Getty Images
In 1980, Rick Warren founded the Saddleback Church in Lake Forest, California. Today the evangelical megachurch church is America's fifth largest, and weekly attendance averages 20,000 people. Warren has also written best-selling book A Purpose Driven Life. His professed philosophy is to bring global harmony to the world by founding churches, promoting education, and helping the poor and sick.
Warren, 63, and his wife Kay Warren live on 10 percent of their income and donate the rest to charity. "I drive a 12-year-old Ford, have lived in the same house for the last 22 years, bought my watch at Wal-Mart, and I don't own a boat or a jet," Warren told Forbes. His net worth is $25 million, reported Celebrity Net Worth.
Next: His career-long audience has topped 2.2 billion.
6. Billy Graham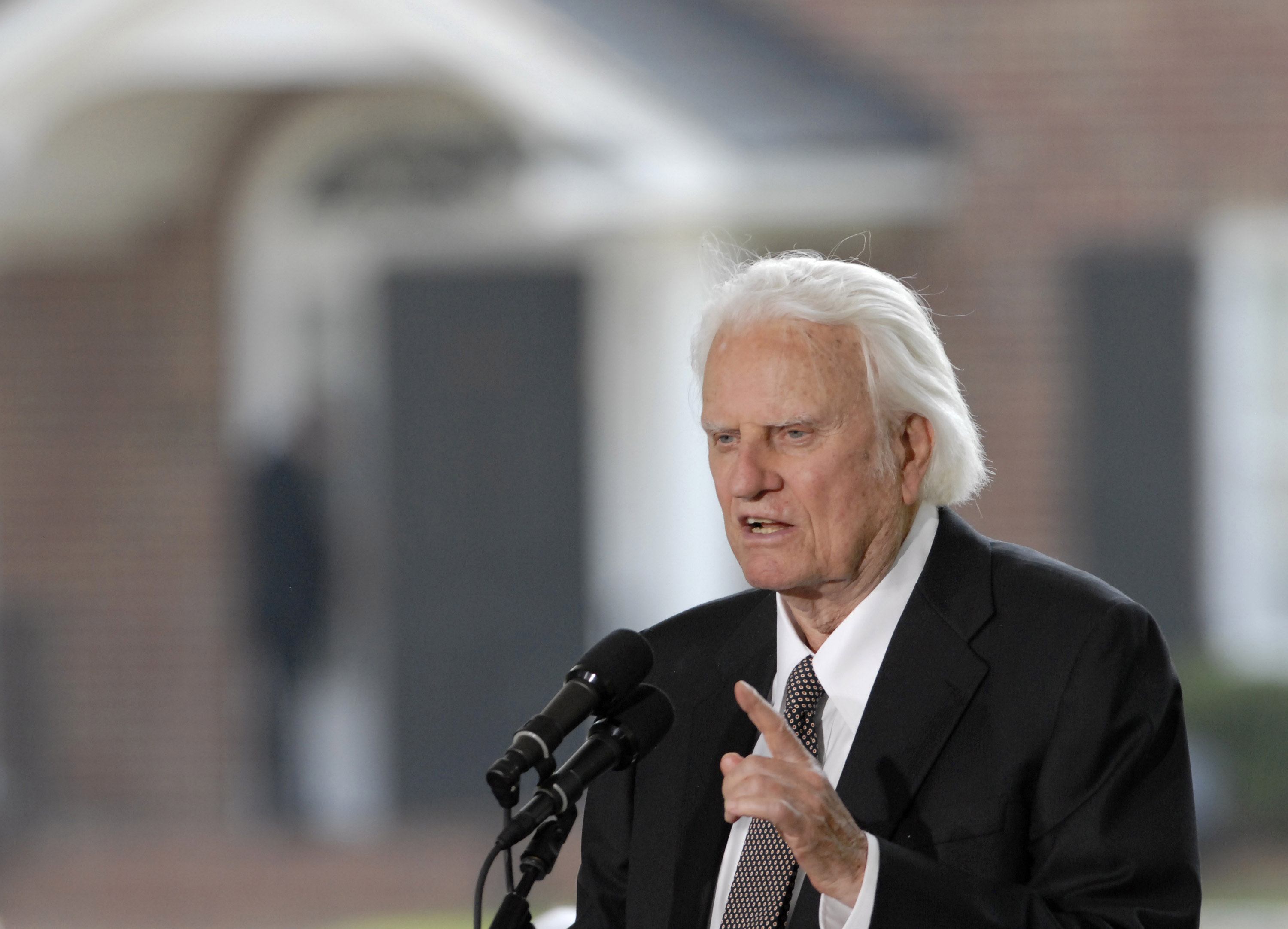 He was one of the first celebrity pastors. | Davis Turner/Getty Images
Billy Graham, a Southern Baptist minister, became one of the first pastors to reach celebrity status. He gained popularity as his sermons were broadcast on radio stations and TV channels around the country. In 1950, he founded the Billy Graham Evangelistic Association in Minneapolis. He also served as spiritual advisor to presidents Richard Nixon and Dwight Eisenhower and preached alongside Martin Luther King, Jr.
At the time of his death in February 2018 at age 99, Graham was estimated to have preached to over 2.2 billion people. He wrote 33 books, some of which became bestsellers. His net worth was reportedly $25 million.
Next: His congregation bought him a new jet.
5. Creflo Dollar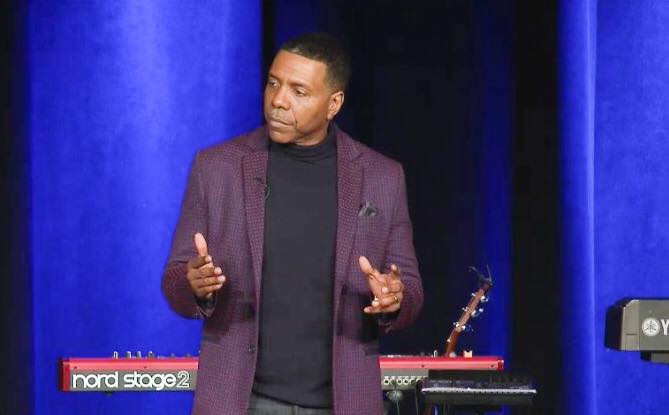 He was also arrested for a domestic disturbance. | Creflo A. Dollar via Facebook
As his last name suggests, televangelist Creflo Dollar has amassed some riches – and he has the possessions to prove it. Dollar is an American Word of Faith teacher, pastor, and founder of the non-denominational World Changers Church International, based in Fulton County, Georgia. In 2007, he had a congregation of 30,000 as well as $69 million in cash collection revenue. Dollar preaches his philosophy that "it is the will of God for you to prosper in every way."
Dollar has a reported net worth of $27 million. He has been criticized for his lifestyle and possessions, including two Rolls-Royce cars, a private jet, and million-dollar homes in Atlanta and Manhattan. When his Gulfstream jet ran off the runway, through the congregation and website donations, the ministry board was able to acquire a new one.
Next: A Houston mega-pastor is no stranger to controversy.
4. Joel Osteen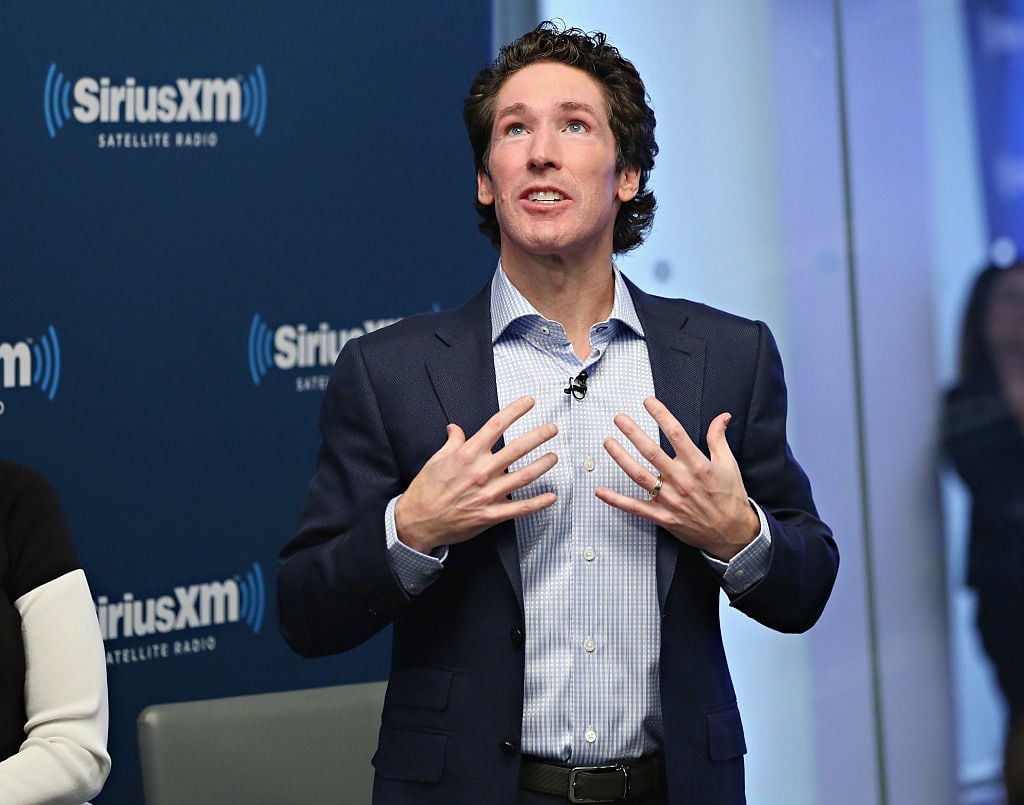 One of the best-known TV pastors has also faced some controversy. | Cindy Ord/Getty Images
Joel Osteen is senior pastor at Lakewood Church, the largest Protestant church in America. Weekly attendance at the Houston-based church is 52,000. In 1999, Osteen, now 54, inherited the church and its television ministry from his late father John Osteen. Today, 7 million people in 100 different countries watch Lakewood Church broadcasts every week. Osteen's book Your Best Life Now was on the New York Times Best Seller list for 200 weeks.
Royalties from Osteen's book sales, radio show, public speaking fees, and church collection reportedly generate $55 million per year. He and his wife, co-pastor Victoria Osteen, live with their two kids in a $10.5 million mansion in the Houston suburbs. Osteen's net worth is reported as $40 million. In August 2017, after receiving criticism for not helping Hurricane Harvey victims, Osteen opened his 16,800-seat Houston megachurch to evacuees.
Next: The IRS famously raided this pastor's headquarters.
3. Benny Hinn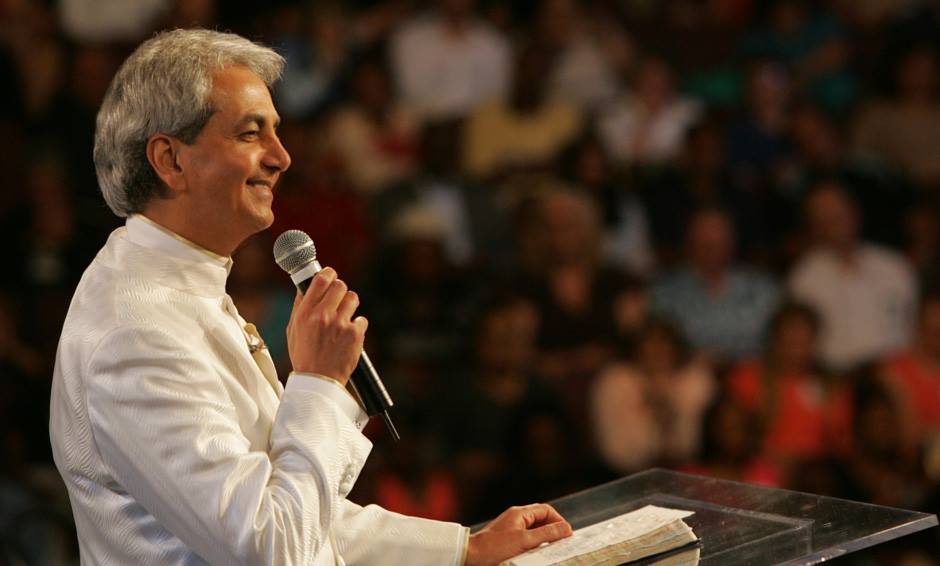 He uses the church's luxury goods. | Benny Hinn Ministries via Facebook
Israeli-born televangelist Benny Hinn is best known for his "Miracle Crusades," or faith healing summits, which are held in stadiums around the country and broadcast on his TV program This Is Your Day. He founded Orlando Christian Center church in 1983 and began holding his healing services there. Followers believe Hinn can heal any of their ailments if he prays over them.
Hinn's personal use of church-owned luxury goods has attracted criticism. In April 2017, IRS and U.S. Postal Service criminal investigators raided Hinn's headquarters in Grapevine, Texas. The Senate Finance Committee also investigated Hinn and five other televangelists in 2007. After several years, Hinn and the other pastors were cleared of wrongdoing. Hinn's net worth is reported as $60 million.
Next: A charismatic televangelist is worth 9 figures.
2. Pat Robertson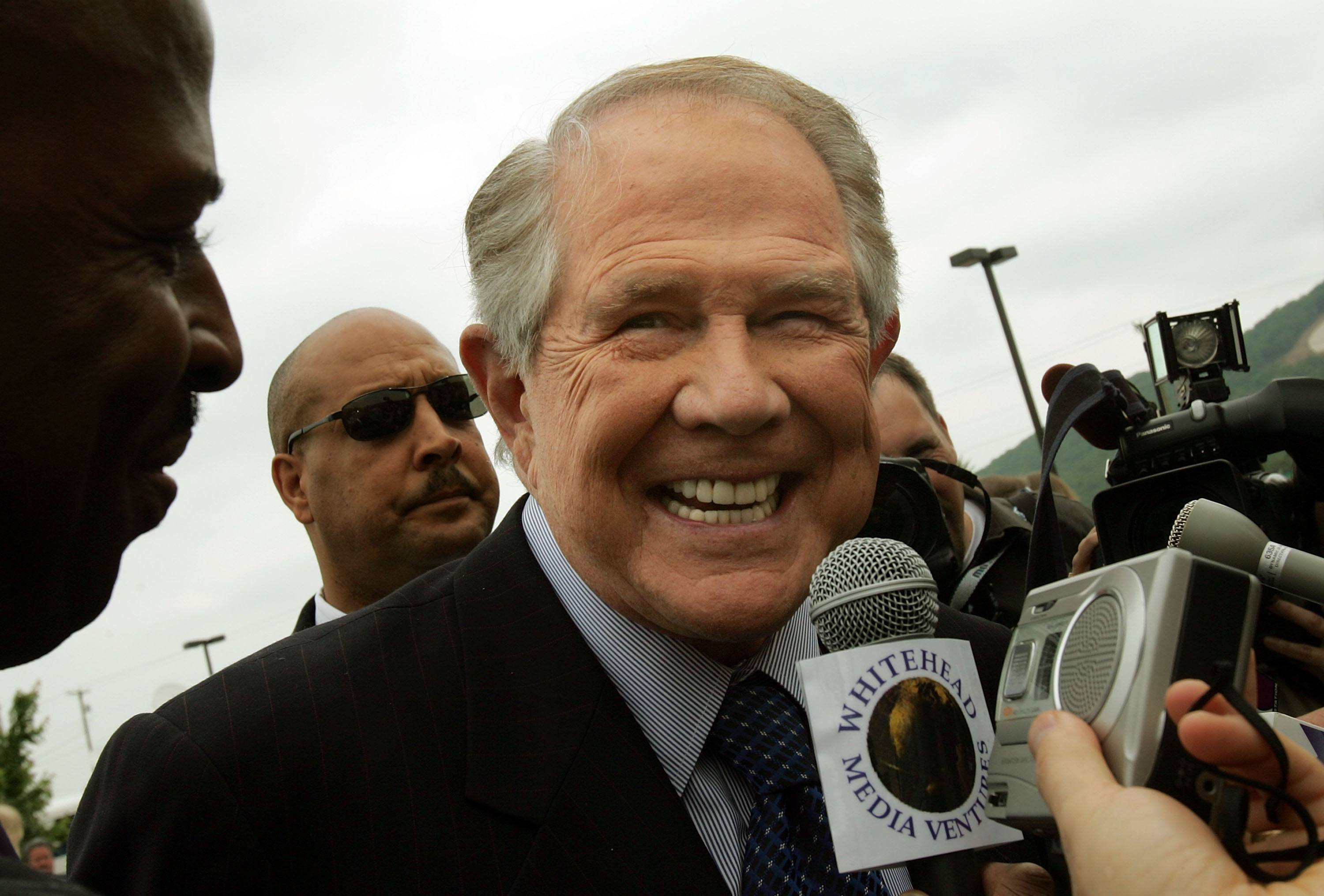 He ran for president in 1988. | Mario Tama/Getty Images
Televangelist Pat Robertson is a Southern Baptist with a charismatic ideology. In 1960, he founded Christian Broadcasting Network, which now broadcasts shows in 180 countries in 71 languages. The flagship show, The 700 Club, airs daily, featuring news, live guests, music, and testimony oriented around the Christian lifestyle.
In addition to his TV network, Robertson, 87, is a former Marine who ran unsuccessfully for U.S. president in 1988. He also founded Christian Coalition, a Christian Right organization that raises money for conservative political candidates. He is also founder, CEO, and chancellor of Regent University. Robertson's net worth is reported as $100 million.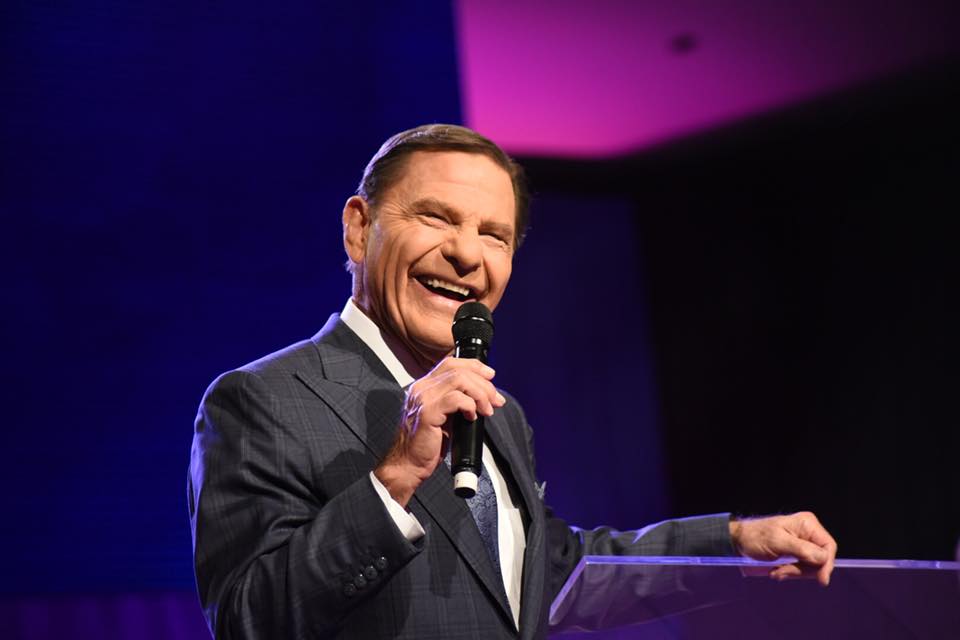 Next: Could America's richest pastor be a billionaire?
1. Kenneth Copeland
The church funded his lakeside mansion and private jet. | Kenneth Copeland via Facebook
Net worth: $300 million
Kenneth Copeland converted to Christianity in the 1960s and went on to become a giant within the Word of Faith branch of Pentecostalism. He currently heads Kenneth Copeland Ministries and preaches through TV, books, DVDs, and CDs. Copeland preaches abundance and prosperity, commonly referred to as the prosperity gospel.
Kenneth Copeland Ministries is located on a 1,500-acre campus near Fort Worth, Texas. The grounds include a church as well as a private airstrip and hangar for a $17.5 million jet and other aircraft. Copeland reportedly lives in a $6.3 lakefront mansion funded by his church. Although Celebrity Net Worth reported he's worth $300 million, other reports say Copeland could be worth $750 million or more. Source
They identified them as dangerous false teachers and urged Christians to avoid them.
Paul warned Timothy about such men in 1 Timothy 6:5, 9-11. These men of "corrupt mind" supposed godliness was a means of gain and their desire for riches was a trap that brought them "into ruin and destruction" (v. 9). The pursuit of wealth is a dangerous path for Christians and one which God warns about: "For the love of money is a root of all kinds of evil. Some people, eager for money, have wandered from the faith and pierced themselves with many griefs" (v. 10). If riches were a reasonable goal for the godly, Jesus would have pursued it. But He did not, preferring instead to have no place to lay His head (Matthew 8:20) and teaching His disciples to do the same. It should also be remembered that the only disciple concerned with wealth was Judas.
Paul said covetousness is idolatry (Ephesians 5:5) and instructed the Ephesians to avoid anyone who brought a message of immorality or covetousness (Ephesians 5:6-7). Prosperity teaching prohibits God from working on His own, meaning that God is not Lord of all because He cannot work until we release Him to do so. Faith, according to the Word of Faith doctrine, is not submissive trust in God; faith is a formula by which we manipulate the spiritual laws that prosperity teachers believe govern the universe. As the name "Word of Faith" implies, this movement teaches that faith is a matter of what we say more than whom we trust or what truths we embrace and affirm in our hearts.
A favorite term of prosperity gospel teachers is "positive confession." This refers to the teaching that words themselves have creative power. What you say, prosperity teachers claim, determines everything that happens to you. Your confessions, especially the favors you demand of God, must all be stated positively and without wavering. Then God is required to answer (as though man could require anything of God!). Thus, God's ability to bless us supposedly hangs on our faith. James 4:13-16 clearly contradicts this teaching: "Now listen, you who say, 'Today or tomorrow we will go to this or that city, spend a year there, carry on business and make money.' Why, you do not even know what will happen tomorrow. What is your life? You are a mist that appears for a little while and then vanishes." Far from speaking things into existence in the future, we do not even know what tomorrow will bring or even whether we will be alive.
Instead of stressing the importance of wealth, the Bible warns against pursuing it. Believers, especially leaders in the church (1 Timothy 3:3), are to be free from the love of money (Hebrews 13:5). The love of money leads to all kinds of evil (1 Timothy 6:10). Jesus warned, "Watch out! Be on your guard against all kinds of greed; a man's life does not consist in the abundance of his possessions" (Luke 12:15). In sharp contrast to the prosperity gospel emphasis on gaining money and possessions in this life, Jesus said, "Do not store up for yourselves treasures on earth, where moth and rust destroy, and where thieves break in and steal" (Matthew 6:19). The irreconcilable contradictions between prosperity teaching and the gospel of our Lord Jesus Christ is best summed up in the words of Jesus in Matthew 6:24, "You cannot serve both God and money."
StevieRay Hansen
SRH: Many televangelist scandals are rooted in misappropriation of funds, using the money they shouldn't be for their own personal gain. A lot of the televangelists who people have negative opinions of teaching the "prosperity gospel," which is a distortion of the true gospel. Ministers of the so-called "prosperity gospel" may make false and exaggerated promises for the sake of receiving financial donations: "If you give me ____, God will multiply it and give you _____ (usually money)." The greed within them causes them to speak falsely and distort the Word of God for their own selfish purposes, whether they realize it or not. Viewers may see some of these preachers flaunting their wealth, but are less certain if their donations are truly being used for kingdom purposes. First Timothy 6:9-10 warns: "But those who desire to be rich fall into temptation, into…
SRH: False doctrine weakens the future church, while sound doctrine strengthens the future church. Christians are responsible for both the present and the future of the faith. Jesus's final commandment to his disciples included not only evangelizing and baptizing the nations, but also "teaching them to observe all that I have commanded you" (Matthew 28:20a). In both letters to Timothy, Paul told his young protégé to "guard the deposit" that had been entrusted to him (1 Timothy 6:20, 2 Timothy 1:14). But it was not enough for Timothy to guard it personally. He was called by God to raise up the next generation of leaders who would hold to it and, in turn, entrust it to the generation after them. "What you have heard from me in the presence of many witnesses entrust to faithful men, who will be able to teach others also" (2 Timothy 2:2).
False doctrine confuses truth and error, prevents godliness, promotes sin, elevates ungodly leadership, permits false teachers, removes God's blessing, debilitates the church for times of difficulty, and weakens her for the future. Sound doctrine distinguishes truth from error, promotes godliness, prevents sin, qualifies godly leadership, protects against false teachers, ensures God's blessing, equips the church for times of difficulty, and strengthens her for the future.
Will Putin Fulfill Biblical Prophecy and Attack Israel?