Advisory: Be careful of what you read on social media. The algorithms used by these platforms have no regard for Biblical truth. They target your emotions to keep you engaged on their site so their advertisers can drop more ads. These platforms exist to enrich their stockholders. Consider God's promise to Believers in James 1:5, "If any of you lacks wisdom, you should ask God, who gives generously to all without finding fault, and it will be given to you."
The Plandemic Cares Not Who It Hurts…
There is no indication in Acts or his letters that Paul owned a house in Tarsus, Jerusalem, Antioch, or any other city for that matter. Like Jesus, Paul didn't see the lack of assets, possessions, and wealth as a problem. Instead, he was passionate about giving financial aid to the truly poor and needy (Acts 24:17, Romans 15:26, 2 Corinthians 9:1-15, and Galatians 2:10).
It's no wonder that Jesus promised eternal blessings for those who care for the homeless and destitute (Matthew 19:21, Matthew 25:31-40, Mark 10:21, Luke 11:41, Luke 12:33, Luke 14:13, Luke 18:22, and Luke 19:8).
Jesus also warned about eternal losses for those who spurn the needs of the poor (Matthew 25:41-46; see also Proverbs 19:17 and Proverbs 28:27). Later, Jesus' half-brother, James, echoed a similar stern warning (James 2:1-9).
The threat of looming evictions could result in 28 million people being homeless in the U.S. as a result of the coronavirus pandemic, one expert contends.
Emily Benfer, who has spent her career representing homeless families, was recently interviewed by CNBC where she went into detail about what could be a stark reality for homelessness in the country as a result of the coronavirus. She is currently the chair of the American Bar Association's Task Force Committee on Eviction and co-creator of the COVID-19 Housing Policy Scorecard with the Eviction Lab at Princeton University.
"We have never seen this extent of eviction in such a truncated amount of time in our history," Benfer said when asked about how the current homeless crisis compares to the 2008 housing crisis.
She continued: "We can expect this to increase dramatically in the coming weeks and months, especially as the limited support and intervention measures that are in place start to expire. About 10 million people, over a period of years, were displaced from their homes following the foreclosure crisis in 2008. We're looking at 20 million to 28 million people in this moment, between now and September, facing eviction."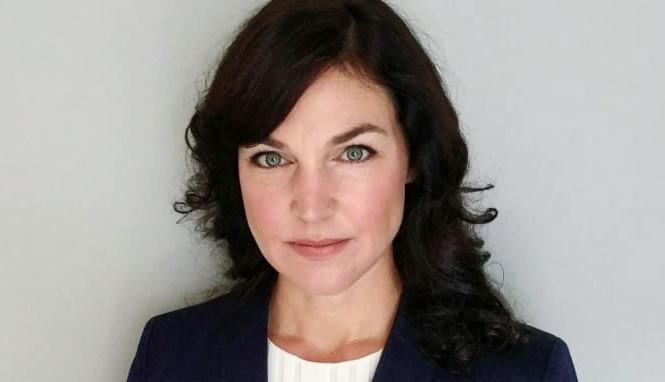 She also noted that evictions could have a negative effect on people's health, stating that evictions cause more respiratory distress and increased mortality. Since the main way to combat the virus has been to shelter-in-place, evictions could lead to a quicker spread of the virus, Benfer says.
With regard to individual state moratoriums on evictions, Benfer says that as soon as they run out, Sheriff's are just waiting to execute evictions: "The moment the moratoriums lift, all of those families will be immediately put out. And right now, 29 states lack any state level moratorium against evictions. "
She continued: "Some of the moratoriums are limited to different segments of the population, and in their duration. They were also not coupled with financial assistance to ensure that renters don't accrue this backed-up debt and are stabilized enough to stay in their unit."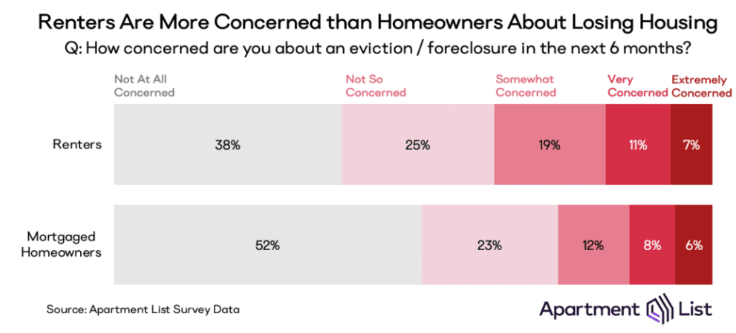 As a result, she is calling for an immediate nationwide moratorium on evictions, coupled with more financial assistance: "As an immediate measure, we need a nationwide uniform moratorium on eviction, and it has to be coupled with financial assistance to ensure that the renter can stay housed without shifting the debt burden onto the property owner."
Benfer also talked about the problems with holding eviction hearings via video streaming, instead of in a courtroom. "When you consider that people are now choosing between rent and food for their families, they're also unlikely to be able to pay for minutes on their phone, or Wi-Fi, to log into a remote hearing," she said.
"So appearance itself may be very challenging. And if they fail to appear, if they weren't able to dial in or if they don't have the right link to the Zoom, that's considered a failure to appear, which results in a default judgment for the property owner."
Recall, we just wrote days ago about how hard it was to get evicted in individual states. We also noted that 30% of owners didn't make their housing payment in June.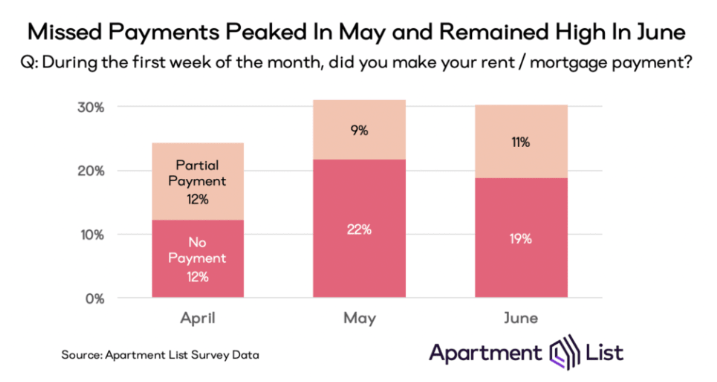 That figure stood at 24% in April and 31% in May, before falling slightly to 30% in June. One third of the 30% in June made a partial payment, while two thirds made no payment at all.
"Missed payment rates are highest for renters (32 percent), households earning less than $25,000 per year (40 percent), adults under the age of 30 (40 percent), and those living in high-density urban areas (35 percent). While the missed payment rate for mortgaged homeowners is just 3 percentage points lower than renters," the survey showed.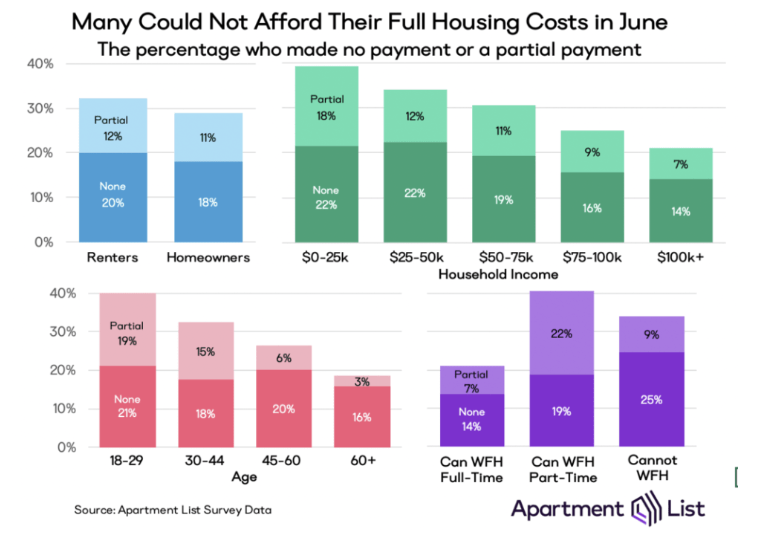 Despite the trend of missing payments at the beginning of the month, households have been able to play catch-up later in the month and "narrow the gap" by making payments in the middle of the month. This was the case in May, where the missed payment rate "dropped from 31 percent at the beginning of the month to 11 percent at the end."
The $1,200 checks sent to most households are long gone, at least for those who needed them most, with the little imminent prospect for a second round. The lending program that helped millions of small businesses keep workers on the payroll will wind down if Congress does not extend it. Eviction moratoriums that are keeping people in their homes are expiring in many cities.
And the $600 per week in extra unemployment benefits that have allowed tens of millions of laid-off workers to pay rent and buy groceries will expire at the end of July.
The latest sign of the economic strain and the government's role in easing it came Thursday when the Labor Department reported that millions more Americans applied for unemployment benefits last week. More than 40 million have filed for benefits since the crisis began, and some 30 million are receiving them.
The multitrillion-dollar patchwork of federal and state programs hasn't kept bills from piling up or prevented long lines at food banks. But it has mitigated the damage. Now the expiration of those programs represents a cliff they are hurtling toward for individuals and the economy.
"The CARES Act was massive, but it was a very short-term offset to what is likely to be a long-term problem," said Aneta Markowska, chief financial economist for investment bank Jefferies legislative centerpiece of the federal rescue. "This economy is going to need more support."
God delights in raising up the humble and righteous person to a position of honor.
God will cause them to inherit the land and enjoy great peace (Psalm 37:11). They will not be forsaken (Psalm 37:25). God desires to grant them blessings and prosperity (Psalm 65:9-13, Psalm 67:6-7, Psalm 68:9-10, Psalm 92:12-15, Psalm 127:2-5, Psalm 128:1-6, and Psalm 144:12-15). Their lost fortunes will be restored (Psalm 126:4-6).
God's people may first have to go through much adversity, but eventually they will enjoy great abundance (Psalm 66:10-12). He withholds no good thing from those whose walk is blameless (Psalm 84:11 and Psalm 85:12). He bestows honor upon them (Psalm 113:7-9) and crowns them with salvation (Psalm 149:4). David himself experienced this.
At one point, he asked the Lord, "Give me a sign of your goodness" (Psalm 86:17 NIV). Then, after years of destitution, God made David ruler over a mighty nation. He and his people enjoyed unprecedented prosperity and peace.
Los Angeles Mayor Eric Garcetti said, "shame, shame, shame on us" if homeless people who have been given housing during the pandemic wind up back on the streets when the crisis subsides.
"… If we don't have the services, also to help people stay housed, we can move people around as far as we want, but they're going to be back on the streets within months," Garcetti said. "They're going to be taxing our criminal justice system, they're going to be taxing our sanitation systems, they're going to be taxing our services and human services. But we know what works. We know this is the time, and we know that we can make a difference."
Garcetti and other mayors pointed to connections between homelessness and the current national debate over racism in the criminal justice system and beyond.
"Even in light of all of the new conversations that we're having around systemic racism in this country, you look at the impact on homelessness on black Americans, on racial justice issues, and it is all connected," Garcia said. "We have to make sure that we move forward in a united way that we can continue the work we're already doing to ensure the people experiencing homelessness have access to homes and the dignity that each one of them deserves."
Garcetti noted that his city's homeless population is 33% black, despite being only 9% of the overall countywide population.
The mayors all stressed the need for the state to provide funding directly to cities and give them the flexibility to direct the money where it is needed most locally.
"We need the flexibility to ensure that as coronavirus continues and as that crisis begins to hopefully end in the future, that these individuals have the opportunity to get back in the workforce and have a roof over their head, and they're not back out on the street," Long Beach Mayor Robert Garcia said.
By the end of September, up to 23 million Americans will be at risk of eviction, according to a report by the Covid-19 Eviction Defense Project and the Aspen Institute Financial Security Program.
The Legal Aid Society estimates that in New York alone, 50,000 evictions will be filed on Monday when the state's blanket moratorium on evictions expires. The extended moratorium will only apply to renters who have suffered a financial hardship due to Covid-19 or qualify for unemployment. This leaves out undocumented immigrants, individual gig workers or people working off the books, and renters with pending eviction cases.
"I think that the United States can expect an avalanche of evictions that will impact the entire community and have a cascade of additional losses, everything from financial well-being to health, to housing opportunities across the country," said Emily Benfer, director of the Health Justice Advocacy Clinic at Columbia Law School.
It's expected that people of color will be evicted at a much higher rate. Latinx and Black residents make up 18% and 12% of the US population, respectively, but account for 28% and 18% of people living in renter households who have suffered job or income loss due to Covid-19, according to a study by UC Berkeley.
David was homeless for years while on the run from King Saul.
David lamented repeatedly, "I am poor and needy" (Psalm 40:17, Psalm 70:5, Psalm 86:1, and Psalm 109:22). Yet, in every psalm David penned during those trying times, he reaffirmed his faith in the Lord his God. What's more, David penned many of the verses listed in points #6-#10 below.
"Black households are more than twice as likely to be evicted as White households," said Benfer. "It's a significant impact that we're going to have here, and they will be the hardest hit."
And that could lead to record homelessness. The Coalition for the Homeless in New York City says its mobile soup kitchens have seen a 100% increase in need, and their housing hotlines have been slammed with newly homeless people asking for help.
"We've never seen anything like this," said Dave Giffen, executive director of the Coalition for the Homeless. "We know that this isn't the end. It's not even the middle. This is only the beginning of the crisis."
How states and the federal government can help
On a national level, the CARES Act provides some protection from evictions and late fees for tenants who live in federally subsidized or federally backed housing through July 24. Also, earlier this week, several agencies extended eviction moratoriums for tenants who rent single-family homes from landlords with federally-backed loans through the end of August
That covers about 28% of the nation's rental units, according to the Urban Institute. The rest must rely on the quickly expiring state eviction moratoriums and other relief efforts.
As state moratoriums expire, some governors have been able to funnel federal dollars from the $2 trillion CARES Act into rent relief funds. In Iowa, Republican Gov. Kim Reynolds created a rental assistance fund for her state as eviction restrictions lifted at the end of May. In New York, Gov. Andrew Cuomo signed a bill creating a $100 million fund in rental assistance for New Yorkers through August 20.
But housing advocates say New York's fund will leave many renters out. Benfer estimates six times as much rental assistance is needed.
"The bill is merely a placeholder. The act only covers renters who lost their income between April 1 and July 31 and who earn less than 80% of the area median income, which in New York City is about $81,000 for a family of three.
Moses was homeless after fleeing Egypt.
Forty years later, Moses cried out in prayer on behalf of God's people (Psalm 90:13-16). There in the desert, God called Moses (Exodus 3:1-6) and told him to return to Egypt (Exodus 3:7-10).
There God used Moses to bring about a great deliverance of God's people from their oppressors (Psalm 77:16-20, Psalm 78:12-14, Psalm 78:42-53, Psalm 105:26-39, and Psalm 106:8-12).
In turn, Moses penned most of the verses listed in point below.
In biblical times, loving your neighbor meant giving to the homeless and poor on a regular basis.
First, by inviting them to join your family for every holiday feast (Deuteronomy 10:18-19, Deuteronomy 16:10-11, Deuteronomy 16:13-14, and Deuteronomy 26:11).
Second, by sharing part of your wealth with them every third year (Deuteronomy 14:28-29 and Deuteronomy 26:12-13). Third, by leaving part of your crops for them to glean during each and every harvest (Leviticus 19:9-10, Leviticus 23:22, Deuteronomy 16:19-20, and Deuteronomy 24:19-21).
We see this intricately woven into the story of Ruth who, after her husband's death, temporarily experienced homelessness and poverty (Ruth 2:2-3, Ruth 2:15-16, and Ruth 2:19-23).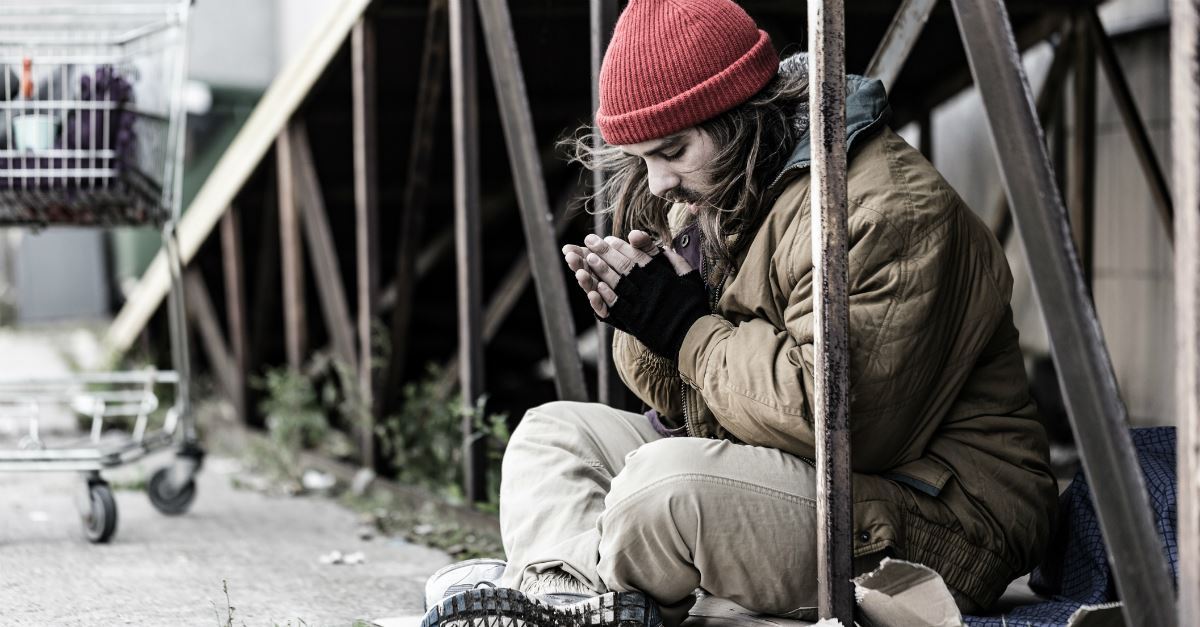 Paul experienced homelessness for many years while serving as an apostle (1 Corinthians 4:11).
There is no indication in Acts or his letters that Paul owned a house in Tarsus, Jerusalem, Antioch, or any other city for that matter. Like Jesus, Paul didn't see the lack of assets, possessions, and wealth as a problem. Instead, he was passionate about giving financial aid to the truly poor and needy (Acts 24:17, Romans 15:26, 2 Corinthians 9:1-15, and Galatians 2:10).
The World Is In Big Trouble, for Those That Believe We Will Go Back to Some Sense of Normal Life Here on Earth, You Will Be Sadly Disappointed, Seven and Half Years of Hell on Earth Which Began January 1, 2020
"Our courts oppose the righteous, and justice is nowhere to be found. Truth stumbles in the streets, and honesty has been outlawed" (Isa. 59:14, NLT)…We Turned Our Backs On GOD, Now We Have Been Left To Our Own Devices, Enjoy…
While Mainstream Media Continues to Push a False Narrative, Big Tech Has Keep the Truth From Coming out by Shadow Banning Conservatives, Christians, and Like-Minded People, Those Death Attributed to the Coronavirus Is a Result of Those Mentioned, They Truly Are Evil…
StevieRay Hansen
Editor, HNewsWire.com
Watchmen does not confuse truth with consensus The Watchmen does not confuse God's word with the word of those in power…
In police-state fashion, Big Tech took the list of accused (including this site), declared all those named guilty and promptly shadow-banned, de-platformed or de-monetized us all without coming clean about how they engineered the crushing of dissent, Now more than ever big Tech has exposed there hand engaging in devious underhanded tactics to make the sinister look saintly, one of Satan's greatest weapons happens to be deceit…
The accumulating death toll from Covid-19 can be seen minute-by-minute on cable news channels. But there's another death toll few seem to care much about: the number of poverty-related deaths being set in motion by deliberately plunging millions of Americans into poverty and despair.
American health care, as we call it today, and for all its high-tech miracles, has evolved into one of the most atrocious rackets the world has ever seen. By racket, I mean an enterprise organized explicitly to make money dishonestly.
All the official reassurances won't be worth a bucket of warm spit. The Globals are behind the CoronaVirus, It Is a Man-Made Bioweapon.
James Chapter 1 Verse 27
Religion that God our Father accepts as pure and faultless is this: to look after orphans and widows in their distress and to keep oneself from being polluted by the world. ~James, Half-Brother of Jesus
"Unless God has raised you up for this very thing, you will be worn out by the opposition of man and devils"…
The more I learned about the plight of the kids leaving foster care, the more concerned I became. Most of them didn't have a support system. One study found that within a year of leaving the foster care system, 66 percent of the kids were homeless, in jail or dead. A staggering 80 percent of the prison population had come out of foster care. Girls in foster care were 600 percent more likely than their peers to get pregnant before age 21.
The young men who pass through our ministry originally came because they were in trouble with the law, kicked out of foster care, or living on the streets.
The Lazy H ranch is located on 60 acres of scenic hill country near Mason, Texas. Through a personalized mentoring approach, we help young men who are aging out of state foster care programs to discover God's unique plan for their lives while setting personal, educational and vocational goals for the future.
Upon Aging-Out of Foster Care, 55% Of Males Imprisoned after 5 years
America #1 in Child Sex Trafficking and Pedophilia – CPS and Foster Care are the Pipelines
In one of the first public interviews revealing the depth of the problem of child trafficking within government child social services programs, Tammi Stefano of the National Safe Child show, was interviewed by film producer, Sean Stone, where she stated that the child and human trafficking business currently operating in the United States brings in more money than the illegal drug trade and illegal arms trade combined.
The 127 was also one of the first to publicly expose that known child abusers were routinely being approved as foster parents, which allows child sex trafficking to continue in the U.S. She reported how the Los Angeles Times published an article exposing how 1000 "convicted sex offenders" had been given a "green light" by CPS to become "approved foster parents" just in Los Angeles County.
Today, in 2020 more of this practice of approving sex offenders and pedophiles to become foster parents, to meet the demand of the lucrative child sex trafficking business, is coming to light.
Attorney Michael Dolce, from the law-firm Cohen Milstein, wrote an opinion piece published by Newsweek stating that the nation's foster care system is set up to sexually traffic children.
HNewsWire: Former President Donald Trump announced on June 8 that special counsel Jack Smith had indicted him in connection with an investigation into his……...
Read More
We make every effort to acknowledge sources used in our news articles. In a few cases, the sources were lost due to a technological glitch. If you believe we have not given sufficient credit for your source material, please contact us, and we will be more than happy to link to your article.