Watchman's Update: The W.H.O.'s Pandemic Treaty "Is Tied to a Global Digital Passport and ID System"—Technology Can Only Go So Far Before Prophecy Intervenes–Hell Highway
HNewsWire:
The National Digital Health ID is being implemented by the Federal Office of the National Coordinator for Health Information Technology.
Most US Citizens have no idea it is being implemented.
The National Digital Health ID system is in direct conflict with the US Constitution Bill of Rights.
Please carefully review the following slides. An essay on this subject will be shortly forthcoming.
---
---
---
---
---
---
---
---
China has launched a digital "vaccine passport" to help citizens cross borders as coronavirus inoculation programs around the world gather pace.
The electronic document takes the form of a mini-program in Tencent Holdings Ltd.'s ubiquitous WeChat app, displaying individuals' Covid-19 test results and vaccination status, as well as the type of jab they received. It includes an encrypted QR code that can be scanned for verification in participating countries, Chinese officials said. It can also be printed.
No country is yet believed to have signed up. Late on Tuesday, Chinese state-run tabloid the Global Times published an interview with the incoming Israeli ambassador to China who signaled her nation's intention to be the first.
China has asked the World Health Organization to appoint Beijing to oversee a global vaccine passport system, an ominous prospect given how China's social credit score system operates.
During an interview at the inaugural BizNews Investment Conference, Nick Hudson explained why this was such a chilling development, saying he was worried about the fabric of society and the future of his children.
"China is petitioning the World Health Organization to appoint it to run a global immune passport program – now if that doesn't scare the living daylights out of you I do not know what will," said Hudson.
"This kind of centralization, this kind of control, social credit systems…we need to push back against this stuff because it's coming," he added.
Hudson noted how the UK government denied for months that they were preparing to roll out vaccine passports yet at the same time were bankrolling companies to create them.
HNewsWire:
Rick Scott Decides to Crush the Satan Soldiers Running W.H.O Within American Borders After Seeing Who's Plan for Health Super-Government
In the case of a global planned health epidemic, Republican Senator Rick Scott of Florida is taking efforts to guarantee that the World Health Organization does not obtain enough authority to dictate policies to the United States government. According to Fox News, Scott submitted legislation that would clear that public health problems are solely the responsibility of the United States, not the WHO. The measure would "block any US official from considering as binding any instruction or order issued by the World Health Assembly, the WHO, or its agents or branches," according to Scott's website.
It would also "demand that America's representatives to the World Health Organization reject any modifications to the WHO charter unless both chambers of Congress vote in support of the change in a joint resolution."
Scott was apparently responding to the recent World Health Assembly meeting's internet uproar. The World Health Organization's 194 member countries make decisions via the WHA. According to The Washington Post, it is conducting its first totally in-person event in two years.
The uproar has been fanned by talk of a potential "plandemic treaty." The possible pact might include guidance on how nations should prepare for and react to future pandemics. Despite the fact that such a convention will not be voted upon at the assembly, the reaction has already reached beyond the field of global health. If such a pact existed, mainstream US politicians such as Florida Senator Marco Rubio have reacted to the danger. Rubio's viewpoint is made plain in a tweet. A "Pandemic Treaty" cannot delegate American public health choices to "corrupt" WHO.
According to the Post, former Republican Congresswoman Michele Bachmann alleged that the Biden administration developed modifications to global health regulations suggesting that "all countries of the Earth relinquish their sovereignty over their national health-care choices to the WHO." Snopes, for example, believes that Bachmann's allegations are bogus. Who can blame Rubio and Bachmann if they are just concerned about government overreach? During the COVID epidemic, government mask regulations and lockdowns should have everyone concerned about government overreach.
Consider Dr. Anthony Fauci, director of the National Institute of Allergy and Infectious Diseases and the president's primary medical adviser during the pandemic, with even greater authority to impose lockdowns and mask regulations. Even though the WHO lacks the capacity to enforce its public health recommendations, individuals such as Fauci may. Who would not be concerned?
To add to the prevailing sense of dread, influential individuals have said some ridiculous things while using the epidemic as a springboard.
Take, for example, Yuval Noah Harari, a World Economic Forum agenda contributor.
The World Economic Forum is closely associated with the World Health Organization. The WHO has its own page on the WEF website, and it is referenced positively multiple times across the site.
Harari is also a major counselor to Klaus Schwab, the WEF's founder and CEO.
Harari noted in a Financial Times piece, "In order to end the pandemic, all communities must follow particular standards." There are two major approaches to do this. The government might monitor individuals and penalize those who breach the rules as one option. For the first time in human history, technology allows for continuous monitoring of everyone."
Harari went on. "Today, for the first time in human history, technology allows us to observe everyone all the time," Harari remarked." The KGB couldn't track 240 million Soviet people around the clock fifty years ago. Instead of surveillance operatives, governments may now utilize sensors and smart algorithms everywhere.
With comments like those from one of the donors to a major lobbying group like the WEF, the mere suggestion of a "plandemic treaty" naturally makes everyone apprehensive, including myself.
Even while there is no "pandemic treaty" in place at the moment, politicians like Scott are working to ensure that there never is. "The United States of America must never give the WHO additional authority," Scott said on Fox News. "The WHO is a Xi Jinping puppet, controlled by the Chinese Communist Party, and assisted Beijing in concealing the origins of COVID-19."
"We need to approve this measure fast to keep public health decisions in the hands of Americans," Scott added.
It's a good concept, even if it makes you nervous. Paranoia, as the guy put it, is only rational if everyone is out to get you. If certain high-ranking politicians are worried about a WHO worldwide power grab, this does not negate vigilance against such grabs.
World Health Organization (W.H.O.) chief Tedros Adhanom Ghebreyesus is guaranteed a second five-year term Tuesday when he stands for reelection in an unopposed ballot.
The 57-year-old former Ethiopian minister of health and foreign affairs will be rewarded by attendees at the W.H.O.'s main annual assembly in Geneva, Switzerland, in a flat rejection of any attempt to reform the U.N. subsidiary.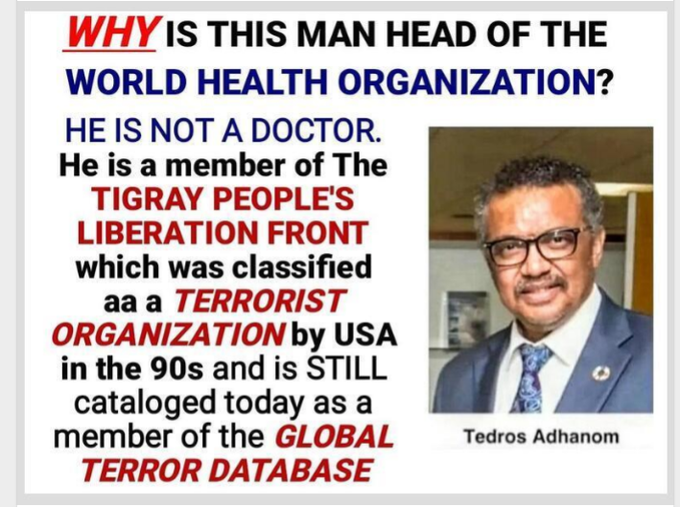 His first term was marked by stumbling to address the coronavirus pandemic while deferring to China alongside a long line of other crises, including a sexual abuse scandal involving W.H.O. staff in the Democratic Republic of Congo and wider allegations of mismanagement across the globalist institution.
Scientists drafted by W.H.O. to investigate the coronavirus´ origins in Wuhan, China, admitted the critical probe was " stalled " last year, after issuing a report even Tedros acknowledged had prematurely ruled out the possibility of a laboratory leak.
Such has been his questionable performance, at one stage a global petition calling for Tedros to resign went close one million signatures.
It was roundly ignored by W.H.O. bureaucrats who operate like their leader inside a culture of absolute impunity.
HNewsWire: An worldwide pandemic pact tethered to a digital passport and ID system was just unveiled by Satan Soldiers at the WHO.
Meeting in a special session for the first time since its creation in 1948 in December 2021, the WHO Health Assembly issued a single resolution entitled, "The World Together."
The World Health Organization (WHO) hopes to complete the pact by 2024. In the event of a pandemic, the WHO's new International Health Regulations will be legally obligatory on member nations, allowing it to assume control over policy making now held by sovereign governments.
U.S. proposed revisions to the 2005 International Health Regulations binding on all 194 U.N. member states were adopted by the WHO director general in January 2022 and transmitted to other member nations. Instead of a two-thirds vote in the Senate, a simple majority of the member states will be required for these revisions, unlike our own constitution.
Public awareness of these developments, which will have a significant influence on the sovereignty of member nations, is very low.
The following are some of the modifications that have been suggested. When a reported event of concern (e.g., a new epidemic) is reported, the WHO will no longer need to engage with the state or seek to gain verification from the state before taking action based on such reports (Article 9.1).
WHO will be given expanded powers, including the ability under Article 12 to establish a public health emergency of worldwide significance and a category known as an intermediate health alert, to decide a public health emergency of regional concern.
When an occurrence is declared a public health emergency of worldwide significance by the WHO Director General, the concerned state no longer has to concur with the decision. A new WHO Emergency Committee will be established, which will be consulted by the Director-General in place of the state whose territory has been affected by the public health emergency of worldwide significance.
"Regional directors" within the WHO will be given the legal ability to declare a Public Health Emergency of Regional Concern as a result of the modifications.
Additionally, the WHO Director-General has the authority to issue a "intermediate public health notice" to governments and discuss with the WHO's Emergency Committee even if an occurrence does not fulfill the requirements for a public health emergency of worldwide significance. "The Director-General has judged that it demands heightened worldwide awareness and a possible international public health response," reads the criterion for the category.
The WHO and the United States seem to be reacting to China's early obstacles to covid via these revisions. This is a valid point of worry. Because of this, the WHO's unelected bureaucrats will be able to wield more control over us than ever before. Every single one of the adjustments is geared at giving the WHO more authority and delegating more authority to the organization as a whole.
According to Leslyn Lewis, a lawyer and a member of the Canadian parliament, the pact would empower the World Health Organization to unilaterally define a pandemic and announce when one is happening. A one-size-fits-all strategy for the whole planet would be disastrous, she warned. A proclaimed obesity issue, for example, may be considered a pandemic under the proposed WHO strategy.
T-Systems, an affiliate of Deutsche Telekom, has been hired by the World Health Organization (WHO) to build a worldwide immunization passport system that would connect every individual on the earth to a QR code digital identity.
A tamper-proof and digitally verified vaccination certificate builds confidence. Because of this, the WHO is assisting member states in developing national and regional trust networks and verification technologies," noted Garret Mehl, director of the WHO Department of Digital Health and Innovation.
Another function of the WHO's gateway service is to connect regional systems. A vaccination campaign and home-based records may also benefit from the technology. "
Un-elected bureaucrats in a captive NGO, who have botched the covid pandemic response, will run this system, which will be universal, obligatory, and cross-national.
SRH: W.H.O Needs to Be Empowered — Financially, and Politically — W.H.O Insist They Have a Treaty With Teeth, the Organization ( W.H.O ) Will Govern the Treaty and Must Have the Power to Enforce Compliance — Welcome to the NWO
HNewsWire: I hope the masses understand what the CDC, the FDA and the medical community have done. They have taken viruses created in labs and released them to the general population, hoping to instill fear, thus being able to control populations. Here's what's happened: they (W.H.O., CDC, FDA, and Satan Soldiers) created a pestilent by tinkering with deadly Viruses, They created a deadly pestilent that only God could cure... Bill Gates and his gang of health renegades, Satan's soldiers, have created hell on Earth.
Just as public concern about COVID-19 appears to be waning, public health authorities around the world are sounding the alarm yet again—this time over an outbreak of monkeypox.
Will Putin Fulfill Biblical Prophecy and Attack Israel?