"Weather Disaster" Can You Hear (GOD)?…
Imminent Winter Storm To Spread Across Northeast 
Amid widespread power losses, at least one million Texans are without power as blackouts and grid failures continue. Old Man Winter's brutal assault across the nation this week will spread more wintery chaos to Mid-Atlantic and Northeast states on Thursday through Friday.
The National Weather Service (NWS) said more than 100 million Americans are in the path of a storm as it traversed the southern Plains earlier this week and is finally arriving on the East Coast Thursday morning.
NWS has posted Winter storm warnings and winter weather advisories from the Deep South to New York City.
Watches And Warnings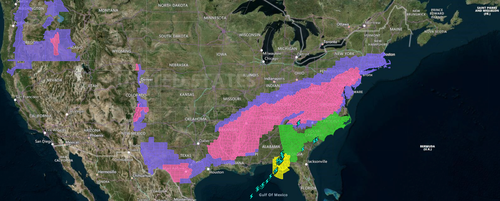 Snowfall from this storm stretches from the Northeast into the Ohio Valley and southern Great Lakes this morning. A wintery mix could be seen in West Virginia, Virginia, and parts of the Delmarva Peninsula.
Current Radar (as of 0640 ET)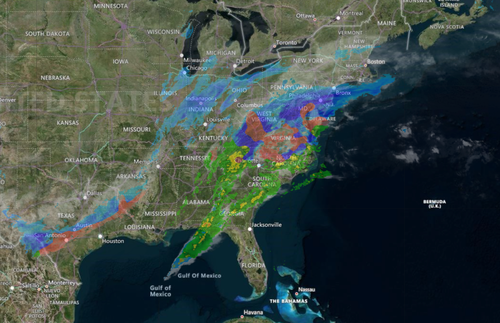 The storm will traverse the coast and spread winter precipitation across much of the Interstate 95 corridor from the Baltimore–Washington metropolitan area to Philadelphia to New York City to Boston on Thursday into Thursday night.
Forecast Timing Of Storm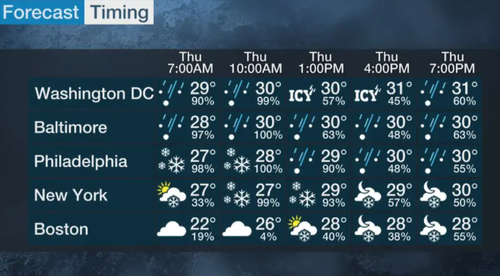 The forecast precipitation model shows the storm will be out of the Northeast by late Friday.
Forecast Precipitation Model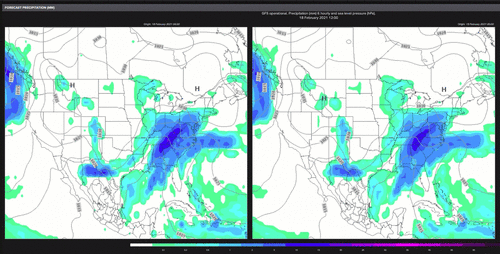 Accumulating snow is expected across the Mid-Atlantic and Northeast Interstate 95 corridor. This could make travel conditions dangerous.
Snow Total Estimates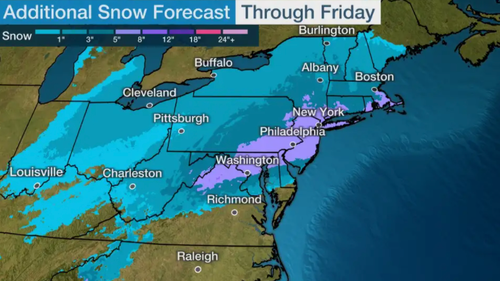 An ice storm threat south of Washington, D.C., is expected.
Ice Threat Model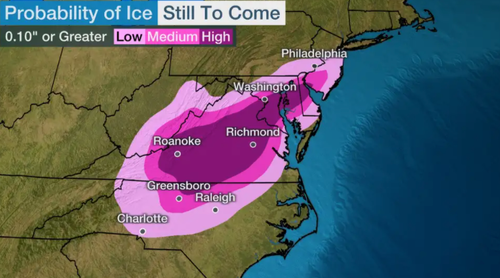 Temperatures in the Mid-Atlantic and Northeast states should stay below or around freezing for much of the winter event. By late weekend into early next week, there could be a warming trend.
Temperature Forecast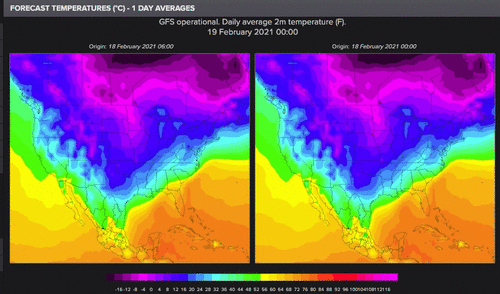 Readers may recall we outlined how another winter blast would traverse the country, strike Texas and create a second round of chaos, then eventually end up in the Northeast by late week.
Earlier in the month, in a note titled ""Overwhelming Signal" – Major Winter Storm Threats For Million Of Americans Within Next Five Days," we spoke of the storms and bitterly cold temperatures that could heavily impact the country.
… and there is some good news after the last few weeks of brutal winter weather. Heating degree days for the US-Lower 48 is set to decrease after this weekend, which means it will take less energy to heat a structure. In other words, warmer temperatures are ahead.
US-Lower 48 Heating Degree Days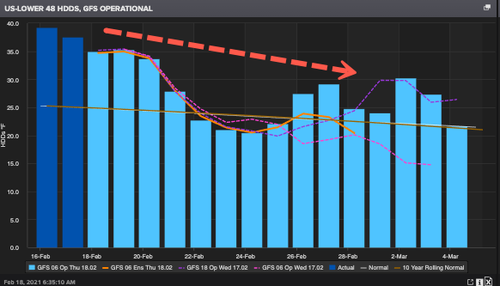 Source: ZeroHedge
Is this Old Man Winter's last stand or will more winter chaos be seen later this month into March. More To Come People…
Strong Earthquake Shakes Japan's Northeastern Coast
A strong earthquake hit off the coast of northeastern Japan late Saturday, shaking Fukushima, Miyagi and other areas, but there was no threat of a tsunami, officials said.
Tokyo Electric Power Co. said there were no irregularities at the Fukushima Dai-ichi nuclear plant, which experienced meltdowns following a massive quake and tsunami 10 years ago.
There were no immediate reports of irregularities from other nuclear plants in the area, such as Onagawa or Fukushima Dai-ni, government spokesperson Katsunobu Kato told reporters.
The Japan Meteorological Agency said the quake had a magnitude of 7.3, raising it from a preliminary magnitude of 7.1.
Tokyo Electric Power Co. said that some 860,000 homes were without power as a result of the quake, but electricity was gradually being restored, according to Kato.
Kato said there was no danger of a tsunami from the quake. He said that some trains in northeastern Japan had stopped running, and that other damage was still being checked.
Video from public broadcaster NHK TV showed some pieces of a building wall had broken off and fallen to the ground, and pieces of glass were scattered at a store. Items fell off shelves because of the shaking, NHK said. NHK aerial footage showed a portion of a highway blocked by a landslide in Soma, a city in Fukushima prefecture.
The extent of damage from the landslide was not immediately clear, Kato said.
He said there were several reports of minor injuries from the quake, such as a man getting hit by a falling object.
The Japan Meteorological Agency said the quake was centered about 55 kilometers (34 miles) beneath the ocean, changing it from the earlier estimate for 60 kilometers (37 miles).
Prime Minister Yoshihide Suga headed into his office immediately after reports of the quake, and a crisis center was set up there. He said there were no reports of major injuries.
"We will continue to respond, putting human lives first," Suga told reporters early Sunday.
The shaking was felt in Tokyo, to the southwest.
The same northeastern area was slammed by a quake, tsunami and nuclear disaster in March 2011. Experts warned of aftershocks over the next several days, including possibly larger quakes.
Some people were taking shelter at evacuation centers, and were being warned to practice social distancing because of the coronavirus pandemic.
Source: NewsBreak
Polar vortex brings most extreme winter weather in years
From wind chills near 60 below zero in the Upper Midwest to an ice storm all the way to the Gulf Coast, it is rare that winter weather gets this extreme. The culprit is a polar vortex teaming up a very active jet stream.
That means cold, snow and ice for hundreds of millions of Americans.
On Saturday, more than two-thirds of the nation was under some kind of winter weather alert running the gamut from wind chill warnings in the northern Plains to winter storm warnings for the Pacific Northwest. There were also winter weather advisories in South Texas and ice storm warnings in the Mid-Atlantic.
A few weeks ago, the polar vortex, which is typically located near the North Pole, broke into pieces — a natural occurrence that happens every couple of winters. Smaller daughter vortices scattered around the Northern Hemisphere, bringing pockets of Arctic air to Siberia, Europe and North America.
For the past week, one of the daughter vortices has set up shop, spinning near the U.S.-Canada border. As a result, temperatures have been frigid, at times dropping below -40 degrees Fahrenheit, but the coldest of air has been confined to the far northern U.S. That's about to change as lobes of the vortex rearrange its orientation, sending cold air south.
Over the coming days the vortex will act as a catapult, slingshotting systems around it's circulation, day after day, from coast to coast. As storms wind up, it will progressively draw the cold air further south.
By Sunday and Monday the bitter cold air currently over the Northern Plains will plunge to the heart of Texas, bringing with it wind chills below zero. The image below traces the origin of the cold air from the Arctic Ocean, down through Canada and southward through the U.S. Plains.https://platform.twitter.com/embed/Tweet.html?creatorScreenName=https%3A%2F%2Ftwitter.com%2Fweatherprof&dnt=true&embedId=twitter-widget-1&frame=false&hideCard=false&hideThread=false&id=1360280136894005248&lang=en&origin=https%3A%2F%2Fwww.cbsnews.com%2Fnews%2Fpolar-vortex-most-extreme-winter-weather-in-years%2F&siteScreenName=CBSNews&theme=light&widgetsVersion=889aa01%3A1612811843556&width=550px
Temperatures will be dangerous. On Sunday morning in North Dakota, Minnesota and Wisconsin wind chills will bottom out in the -40 to -60 degree Fahrenheit range.
Trending News
Lows will drop below zero from Saturday to Tuesday morning in Kansas City, possibly dropping as low as -15 on Monday or Tuesday morning. With the wind factored in, wind chills Sunday, Monday and Tuesday mornings will range from 20 to 30 below.
Even Dallas Texas will experience feels temperatures well below zero on Monday and Tuesday morning. Actual temperatures will be 50 degrees below normal by Monday morning in much of Texas and Oklahoma.
Normal high temperatures this time of year range from 55 in Oklahoma City to 60 in Dallas. Instead, on Monday, temperatures will struggle to rise above the single digits, an astonishing 50 degrees below normal.
Despite being extreme, it's not nearly as extreme as it could be. Over the past few decades, due to human-caused climate change, the coldest extremes are getting less extreme. As one example, in Minneapolis the coldest day each year is now 12 degrees warmer than it used to be.
Bitter cold air is only half of the concern. A parade of storms is moving across the nation this weekend. Snow and ice accumulations will cover more than half the nation and stretch from coast to coast.
In Seattle and Portland, several inches of snow is piling up with a season's worth of snow in 24 hours expected in Seattle. It could be one of the snowiest storms since 1985.
That same storm will dip south across the Rockies producing powder for skiers on Saturday night. On Sunday, places that rarely get significant snow like Oklahoma and Texas will get dumped on. A general 5 to 10 inches are possible from Oklahoma City to Dallas, with snow falling further south into Austin.
As the cold air meets up with moist Gulf of Mexico air an ice storm will break out down to the beaches on the Gulf Coast from Corpus Christi and Houston to Lake Charles, Louisiana. This ice storm will translate northeast across Jackson, Mississippi, and into Tennessee on Monday, with a sheet of ice an inch thick making for dangerous travel and widespread power outages.
That storm will enter the Ohio Valley, Mid-Atlantic and Northeast Monday night and Tuesday. Here precipitation will run the gamut from rain and ice near the coast in places like New York City and Boston, the heavy snow in Ohio, western Pennsylvania, Upstate New York and New England.
Later in the week the pattern will begin to gradually moderate as the polar vortex loses its grip. CBSNews
"Energy Emergency" – Texas Power Provider Warns Of Rotating Outages As Cold Weather Tests Limits Of Grid
The truth is that all of the warnings of alleged 'conspiracy theorists' have turned out to be correct The word translated "pestilence" is often translated as "plague" or "disaster" …
There is a March to death and social media is leading the charge, they are withholding the truth about the coronavirus, You are Marching lockstep into the death spiral…
Wholesale power for delivery Sunday was trading at anywhere from $3,000 to $7,000 a megawatt-hour in some places, triple the records set in some places Saturday and a staggering 2,672% increase from Friday at Texas's West hub. Average spot power prices were just shy of $1,000 per megawatt hour during peak hours Sunday morning, according to data compiled by Bloomberg.
As one Houston energy trader so eloquently explained, Texas electricity customers are about to get "lubelessly pounded" as prices explode:
Scary as shit surge…

Sunday day ahead cleared 4765 for the peak and 2297 for the offpeak. HANDS DOWN BY FAR HIGHEST CLEAR ON RECORD.

And yep, all those folks on griddy were paying 9$ per KWh earlier today and continue to get lubelessly pounded
"Spot prices are expected to hit $9,000 on both Monday and Tuesday," said Brian Lavertu, a trader for Active Power Investments.
"Power is going to be wild through Tuesday."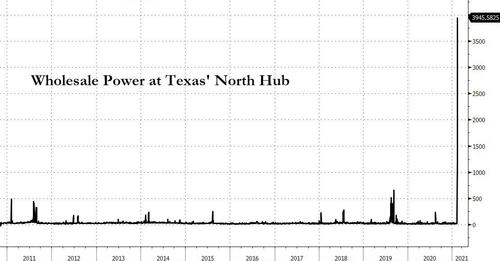 "It is a pretty brutal air mass," said Bob Oravec, senior branch forecaster at the U.S. Weather Prediction Center.
"The cold air is entrenched across the middle part of the country. High temperatures are amazingly cold, some 50 degrees below average."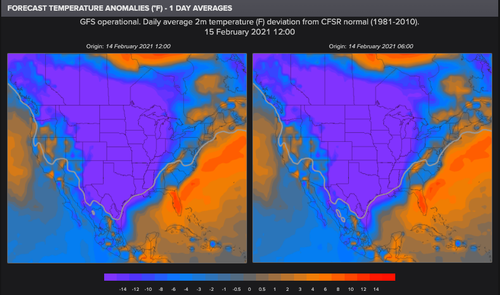 And, the situation in Texas doing from bad to worse: Weather forecast models suggest the polar vortex will continue pouring Arctic air into much of the central US through Feb. 20.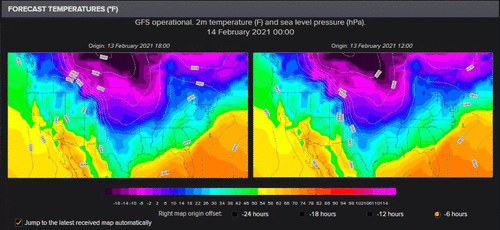 As a result of this, Texas power grid operator ERCOT, has issued a statement warning of an "energy emergency" and threatening "rotating outages" just when residents need the power to heat their homes the most:
The Electric Reliability Council of Texas (ERCOT) is asking consumers and businesses to reduce their electricity use as much as possible Sunday, Feb. 14 through Tuesday, Feb. 16.
"We are experiencing record-breaking electric demand due to the extreme cold temperatures that have gripped Texas," said ERCOT President and CEO Bill Magness.

"At the same time, we are dealing with higher-than-normal generation outages due to frozen wind turbines and limited natural gas supplies available to generating units. We are asking Texans to take some simple, safe steps to lower their energy use during this time."
Here are some tips to reduce electricity use:
Turn down thermostats to 68-degrees.
Close shades and blinds to reduce the amount of heat lost through windows.
Turn off and unplug non-essential lights and appliances.
Avoid using large appliances (i.e., ovens, washing machines, etc.).
Businesses should minimize the use of electric lighting and electricity-consuming equipment as much as possible.
Large consumers of electricity should consider shutting down or reducing non-essential production processes.
Given the prolonged, below-freezing temperatures, conservation measures should be implemented safely and within reason.
ERCOT has the tools and procedures in place to maintain a reliable electric system during tight grid conditions. If power reserves drop too low, ERCOT may need to declare an Energy Emergency Alert, or EEA. Declaring an EEA allows the grid operator to take advantage of additional resources that are only available during scarcity conditions.
There are three levels of EEA, and rotating outages are only implemented as a last resort to maintain reliability of the electric system.
Other markets moving on the cold:
Gas in Chicago hit $220 per mmBtu, traders said.
Physical gas was going for as much as $300 per mmBtu at a Texas hub.
Oklahoma gas prices have swung anywhere between $50 to the high of $600.
Spot gas prices across the eastern U.S. remained subdued amid milder temperatures, assessed at anywhere from $4 per to $12 per mmBtu on Friday, pricing data compiled by Bloomberg show.
This decision from ERCOT comes after we first warned of an imminent crisis on Thursday, when we reported that nat gas prices across the plains states had soared to never before seen levels as a result of a brutal polar vortex blast…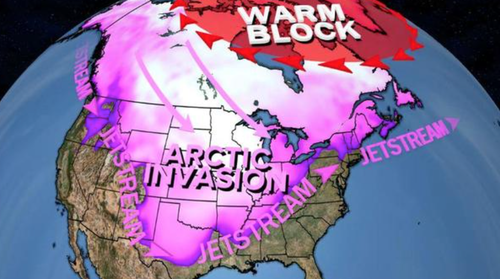 … which literally cut off nattie supply amid wellhead freeze-offs, cutting production receipts just when they're most needed by customers' demand for heating, we said that since the winter blast is expected to last for the duration of the week, it is likely that nattie prices across the plains states could hit GME batshit levels.https://platform.twitter.com/embed/Tweet.html?dnt=false&embedId=twitter-widget-0&frame=false&hideCard=false&hideThread=false&id=1360060979334291456&lang=en&origin=https%3A%2F%2Fwww.zerohedge.com%2Fenergy%2Fenergy-emergency-texas-power-provider-warns-rotating-outages-cold-weather-tests-limits-grid&siteScreenName=zerohedge&theme=light&widgetsVersion=889aa01%3A1612811843556&width=550px
One day later that's exactly what happened because as frigid temperatures caused equipment failures, temporarily shutdowns and flaring in at least four nat gas processing plants …
Targa Resources' Benedum Gas Plant in Upton County affected for 7 hours overnight, co. said in a filing
Occidental Petroleum's Bennett Ranch Unit RCF Facility in Yoakum County, which is used for EOR, was affected for 9 hours Thursday: filing
DCP Midstream's Goldsmith Gas Plant in Ector County affected for 1 hour Thursday: filing
Occidental's nearby gas plant, another EOR facility, was affected by DCP Midstream incident: filing
… we hit the proverbial offerless market where any natgas that was available would be purchased at virtually any price, which is why midcontinent prices such as the Oneok OGT nat gas spot exploded from $3.46 one week ago, to $9 on Wednesday, $60.28 on Thursday and an insane $377.13 on Friday, up 32,000% in a few days. This is one of those places where having a limit up circuit breaker could actually be useful, even though there simply is nowhere near enough product to satisfy demand at any price hence the explosive move.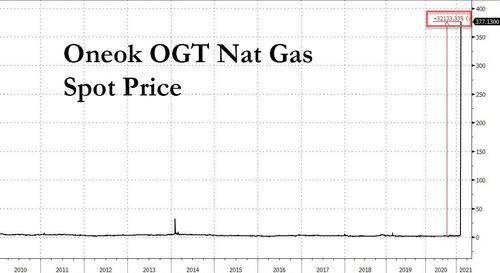 Hubs across the Midcontinent led the surge in prices again Feb. 12 as weather forecasts predicted the coldest temperatures in more than a decade would hit the region over the upcoming holiday weekend. Platts reported that at locations across Kansas, Oklahoma and Eastern Arkansas, hub prices were trading at single-day record highs around $200 to $300/MMBtu. Regional hubs, which typically service only limited local demand, saw fierce competition among shippers, utilities and end-users looking to meet weekend requirements.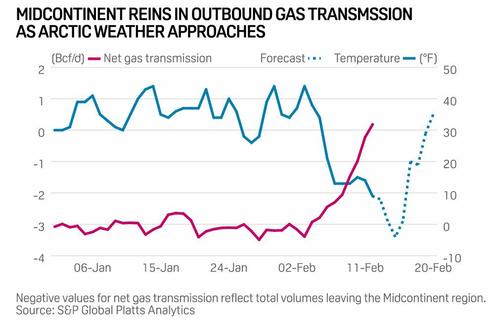 At one Enable Gas Transmission location, the cash market traded as high as $500 with weighted-average prices holding steady by mid-session around $359/MMBtu. At other nearby hubs, cash markets moved to dizzying, record highs with One Oak Oklahoma at $374 (chart above), Southern Star at $275, Panhandle at $225 and ANR Oklahoma at $205. At the region's benchmark location, NGPL Midcontinent, the market was holding around $205/MMBtu, data from the Intercontinental Exchange showed.
And as end-users across the Midcontinent compete for available gas, shippers moved quickly to cut transmissions to neighboring markets. On Feb. 12 net, inbound shipments of gas climbed to 180 MMcf/d – their highest on record dating back to 2005. In January, the Midcontinent region – which typically delivers gas to neighboring markets – saw net outbound transmissions average nearly 3.1 Bcf/d.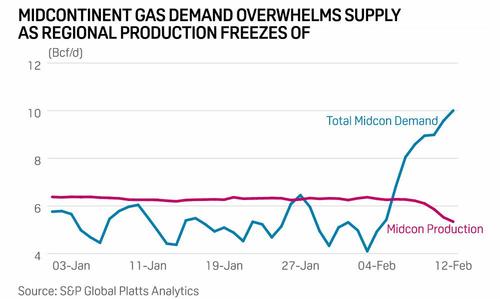 Of course, as natgas went offerless it was just a matter of hours before the immediate downstream commodity, electricity, would follow suit and that's precisely what happened overnight as wholesale electricity prices across all US markets on Friday.
Echoing what we said on Friday, Platts wrote that "as arctic air mass continues to blanket much of the central US, the US National Weather Service has issued multiple severe weather notices. Widespread wind chills warnings and advisories are extended through Feb. 14 and likely into the next week for much of the Upper Midwest and Midcontinent, as well as some areas in the Northwest and northern Texas. Daily temperatures across some of the locations will range between 30 to 40 degrees below average, according to the NWS. Eastern PJM, Northwest and much of Texas are also under winter storm warnings and winter weather advisories."

This is catastrophic news not only for the continued freeze in nat gas distribution, but for the explosion in electricity prices which could see many customers see a February electricity bill in the thousands, if not tens of thousands. This is what a power trader at a Houston energy company advised us on Friday:
Prices in response to the persistent cold have pushed load expectations to all time winter highs, and on par with the hottest summer days the ISO has experienced. Actual shortages could persist if units aren't weatherized and fail at any point. Monday peak is currently bid 4000, and balweek inclusive of Tuesday through Friday is 1000@2000. Off peak (nights) have traded insane levels as well, with the balance of the month trading 650$. For reference, summer of 2018 never came close to touching these levels. The highest trade on a balday was around 2000$, if i'm not mistaken.

The PUC is meeting today to discuss coordination and potential conservation efforts, but this event will likely crush several firms who are not collateralized enough to weather (no pun intended) the storm IMO. And all those folks on griddy could literally be looking at paying 4$+ per KWh across the state (as opposed to 12 cents or whatever rate you got at your house), pushing power bills to the moon.
One day later, and the peak price in Ercot west real-time hit an absolute all time high of $5,500, up from $302 the day before. If anyone has a little extra nat gas in storage, this is the time to sell it and buy a private island.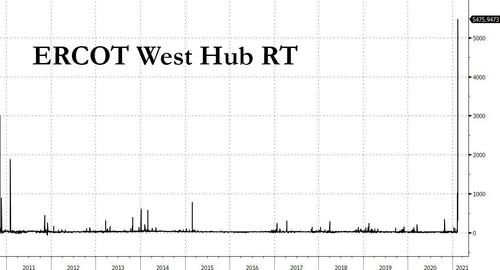 What follows is a breakdown of how the nat gas supply collapse is impacting soaring electricity prices across the US, courtesy of Platts:
Texas
ERCOT next-day prices reached record highs on the Intercontinental Exchange as temperatures throughout Texas were forecast to tumble double digits on Feb. 15. Dallas temperatures were forecast to drop to 8 degrees Fahrenheit, and Houston was forecast down to 34 F, according to CustomWeather.
The brutally cold temperatures also affected wind supply in ERCOT, generation for Feb. 15 was forecast to tumble down 52.5% to 27.8 GWh of generation as cold temperatures impacted wind turbines. DeAnn Walker, chairman of the Public Utility Commission of Texas, said at a meeting on Feb. 11 that there were some "issues with some gas generation plants being curtailed" and that "wind turbines are all frozen," further placing upward pressure on already sky-high prices.
ERCOT North Hub real-time next-day Feb. 15 on-peak power prices skyrocketed to trade above $3000, up from its previous settlement of $325/MWh. Next-day prices broke high records, and they had not seen similar four-digit prices since Aug. 15 2019, when prices settled around $1848/MWh.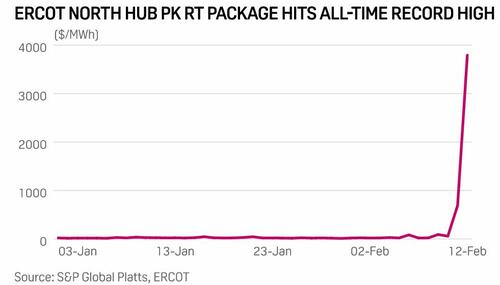 ERCOT North Hub real-time balance-of-the-week for Feb. 16 through Feb. 19 surged to top $1500/MWh, and the balance-of-the-month off-peak package for Feb. 16 through Feb. 28 climbed about $499.75 to trade at $650/MWh.
In response to the unprecedented scramble, the Texas oil/gas regulator, the RRC, approved emergency provisions, and warning that the deep freeze may have a "severe impact" on energy supplies, said that power plants may struggle to acquire gas for generators.
Bloomberg's Javier Blas said, "Texas utilities are asking citizens to conserve electricity if possible as ERCOT prices surge across the board above $5,000 Per MWh (!!!) and hit the $9,000 cap in many nodes. Texas electricity grid is facing massive demand as cold weather hits southern and central U.S. states."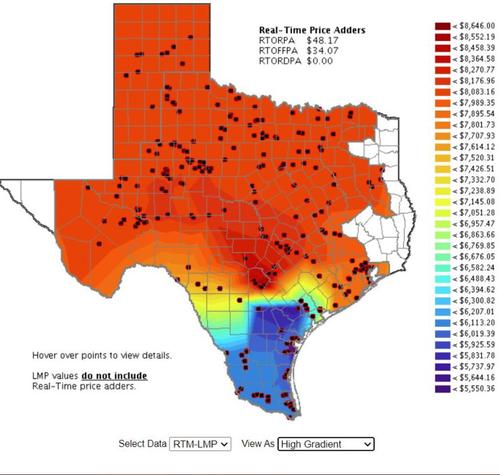 Bloomberg's Rachel Adams-Heard shared a tweet from a Texas power trader… https://platform.twitter.com/embed/Tweet.html?dnt=false&embedId=twitter-widget-1&frame=false&hideCard=false&hideThread=false&id=1360630907657461765&lang=en&origin=https%3A%2F%2Fwww.zerohedge.com%2Fenergy%2Fenergy-emergency-texas-power-provider-warns-rotating-outages-cold-weather-tests-limits-grid&siteScreenName=zerohedge&theme=light&widgetsVersion=889aa01%3A1612811843556&width=550px
Central
In the Midcontinent ISO, Indiana Hub on-peak jumped to its highest price since January 2019 to trade above $100/MWh. Bal-of the-week also rallied to price on par with the next-day flow package. As polar vortex continues to impact the region, the February-to-date average day-ahead price jumped almost 70% month on month and nearly doubled year on year. MISO demand forecast for Feb. 15 is the strongest since August 2020 at 98.63 GW.
As of Feb. 12, MISO is declaring conservative operations due to extremely cold temperatures and generator fuel supply risks through Feb. 16. All transmission and generation maintenance will be suspended in the affected areas, and all outages plans should be reviewed, according to the most recent grid operator's notice.
In PJM, AD Hub on-peak traded in the upper $70/MWh, rising double digits day on day. PJM West Hub also rose to trade in the mid-$60s/MWh. Power demand was forecast to begin retreating slightly in the upcoming days, however, it was still expected to remain relatively strong.
West
West power prices surged to the triple digits, the highest prices of the year so far, as a Pacific storm system was forecast to hit the Pacific Northwest to generate heavy snow and ice accumulations from Portland to Seattle. Mid-Columbia on-peak for Feb. 15 and Feb. 16 delivery boosted about $116.25 to trade at $155/MWh, and the off-peak package hiked about $113.50 to trade around $146.75/MWh.
California packages for Feb. 15 and Feb. 16 rose, with SP15 on-peak up about $117/MWh to trade around $193/MWh, and NP15 on-peak climbing $32.75 to trade around $106.75/MWh. California Independent System Operator peakload demand supported the rally in prices, with forecast demand for Feb. 15 up 1.9% to 26.7 GW.
Southwest packages saw price increments in the $200s/MWh across the board also as the weather service forecast wind chills between -10 and -25 degrees common across eastern New Mexico. Palo Verde on-peak priced around $270.25/MWh, and Four Corners on-peak traded at $314/MWh.
Northeast
Power packages in the ISO New England and NYISO were more mixed in Feb. 12 trading. Mass Hub on-peak tumbled from its recent highs to trade in the mid-$70s/MWh. Bal-of-the-week, in contrast, rose $3 to price at $87.50/MWh.
The locational marginal prices in the New York Independent System Operator were also rangebound, with Zone G adding about $2.50 to trade around $91.25/MWh and Zone J NYC falling about $7 to $94.50/MWh. The corresponding off-peak packages each rose about $5.50 to trade in the mid-$70s/MWh. Despite some of the declines, regional power prices in both ISOs remained elevated.
Unlike the rest of the country, the US Northeast is set to experience more settled weather, with high temperatures in Boston and New York City forecast to slightly increase to the low 30s on Feb. 15 with moderate chances of snow and rain, according to the weather service. ZeroHedge
You MUST Know The Truth, Chaos Is Coming: The US To Start Testing People With Flu Symptoms, Plagues Of 'Biblical Proportions…
Brace for chaos: in a few weeks, the next person to sneeze may be arrested quietly pulled aside by the authorities and tested for coronavirus.
People in the US experiencing flu-like symptoms will be screened for the latest coronavirus that originated from China, officials with the Centers for Disease Control and Prevention announced during a briefing on Friday, adding that it will roll out 5 labs, in Chicago, Los Angeles, New York, San Francisco, and Seattle, to screen patients through the ominously sounding "national flu surveillance program"; if that wasn't bad enough, they also said the program is likely to expand as more confirmed cases are expected in the coming days and weeks.
Justifying the move, CDC officials said that there could be undetected cases of the mysterious illness in communities across the US, as the country experiences a dramatic spike in flu as the season approaches its halfway point.
The agency plans to expand to more cities until it has achieved "national surveillance".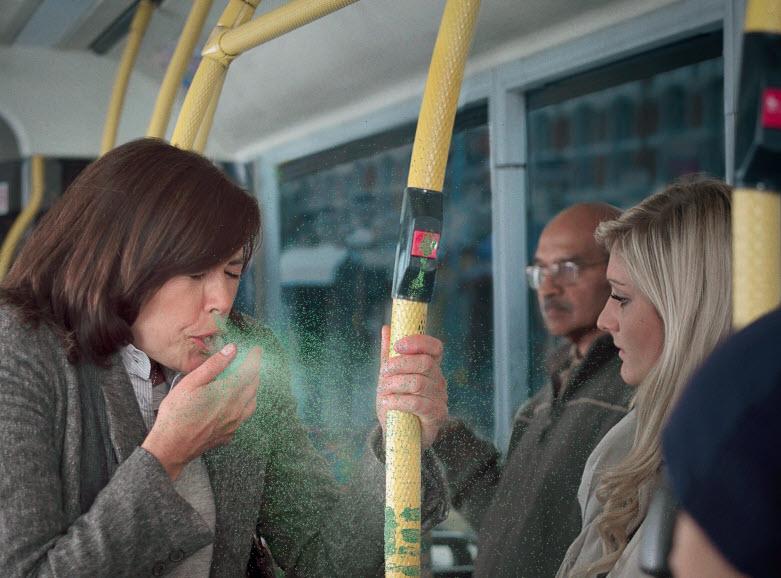 "They are currently testing for influenza. The idea is they will test the influenza negative specimens," said Nancy Messonnier, director of the CDC's National Center for Immunization and Respiratory Diseases. There are now 15 confirmed cases of Covid-19 in the US and more than 600 people remain in quarantine.
Which, of course, is a prudent move, if only it wasn't for the fact that tens of millions of Americans are about to get sick as we enter the peak of flu season, and every sneeze or cough will lead to panicked phone calls to the local ER (or police), and potentially in self-imposed quarantine as more and more Americans await an "all clear" signal before life returns back to normal. Alas, with the coronavirus pandemic running rampant in China, this may not happen for many months.
Global cases of the virus have topped 64,000, including hundreds of health workers in China as it battles to contain the virus following its outbreak in Wuhan. In the US, there have been 15th confirmed coronavirus infections while more than 1,300 people have died in China (it would have been even more had China not somehow "double-counted" the dead).
The latest case in the US involves a patient who was among a group of people under a federal quarantine order in Texas following a US government-chartered flight that evacuated US citizens from China earlier this month.
Meanwhile, health officials report 26 million flu infections in the US so far this season, including 14,000 deaths.
Doctors working on the front lines of the novel coronavirus (COVID-19) outbreak have told the Taiwan Times that it's possible to become reinfected by the virus, leading to death from sudden heart failure in some cases.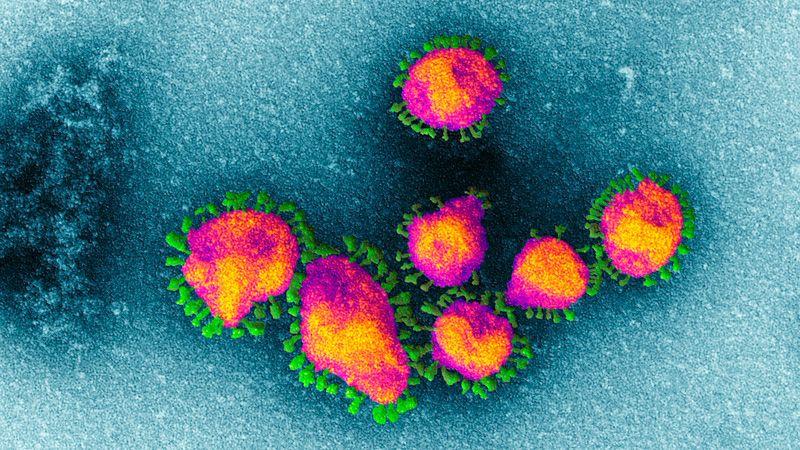 "It's highly possible to get infected a second time. A few people recovered from the first time by their own immune system, but the meds they use are damaging their heart tissue, and when they get it the second time, the antibody doesn't help but makes it worse, and they die a sudden death from heart failure," reads a message forwarded to Taiwan News from a relative of one of the doctors living in the United Kingdom.
The source also said the virus has "outsmarted all of us," as it can hide symptoms for up to 24 days. This assertion has been made independently elsewhere, with Chinese pulmonologist Zhong Nanshan (鍾南山) saying the average incubation period is three days, but it can take as little as one day and up to 24 days to develop symptoms.

Also, the source said that false negative tests for the virus are fairly common. "It can fool the test kit – there were cases that they found, the CT scan shows both lungs are fully infected but the test came back negative four times. The fifth test came back positive." –Taiwan Times
Notably, one of the ways coronaviruses cripple the immune system is via an HIV-like attachment to white blood cells, which triggers a 'cytokine storm' – a term popularized during the avian H5N1 influenza outbreak – in which an uncontrolled release of inflammatory 'cytokines' target various organs, often leading to failure and in many cases death.
The cytokine storm is best exemplified by severe lung infections, in which local inflammation spills over into the systemic circulation, producing systemic sepsis, as defined by persistent hypotension, hyper- or hypothermia, leukocytosis or leukopenia, and often thrombocytopenia.

…

In addition to lung infections, the cytokine storm is a consequence of severe infections in the gastrointestinal tract, urinary tract, central nervous system, skin, joint spaces, and other sites. (Tisoncik, et. al, Into the Eye of the Cytokine Storm)(2012)
According to the 2012 study, "Cytokine storms are associated with a wide variety of infectious and noninfectious diseases and have even been the unfortunate consequence of attempts at therapeutic intervention."
How do coronaviruses enter the body?
With SARS (sudden acute respiratory syndrome), another coronavirus, researchers discovered that one of the ways the disease attaches itself is through an enzyme known as ACE2, a 'functional receptor' produced in several organs (oral and nasal mucosa, nasopharynx, lung, stomach, small intestine, colon, skin, lymph nodes, thymus, bone marrow, spleen, liver, kidney, and brain).
ACE2 is also "abundantly present in humans in the epithelia of the lung and small intestine, which might provide possible routes of entry for the SARS-CoV," while it was also observed "in arterial and venous endothelial cells and arterial smooth muscle cells" – which would include the heart.
This has led some to speculate that Asians, who have higher concentrations of ACE2 (per the 1000 genome project) may be affected to a greater degree than those of European ancestry, who produce the least of it – and have largely been the asymptomatic 'super spreaders' such as Diamond Princess coronavirus victim Rebecca Frasure.
And so while more research on COVID-19 is urgently needed – we know that coronavirus can target ACE2 receptors, which are found in the cardiovascuar system. And we have seen evidence of both sudden collapses and neurological damage from footage pouring out of Wuhan, China.
If the virus can reinfect patients and cause cytokine storms and sudden death – possibly exacerbated by therapeutic intervention – treating the coronavirus which CDC director Dr. Robert Redfield says will become widespread throughout the United States 'this year or next,' it is vitally important to understand exactly how COVID-19 works, and how to treat it. That would require cooperation from China and a CDC team on the ground in the epicenter. For some unknown reason, however, China still refuses to grant US scientists access to ground zero. Don't forget, Per Mr.Trump once warn weather get here all will be GREAT…
The Ugly
This 'Ugly' scenario would see the virus continue to rage in China, spread to ASEAN, Australia and New Zealand, and the cluster of cases in the US and Europe snowball at an exponential growth rate from their current low base. In other words, developed economies would also be hit.
If the virus spreads in the West public panic would naturally be the immediate response. Just as seen in China today, people would stop going out and shopping to stay safe at home, or make panic purchases on fears of supply shortages and then stay at home. In short, the economy would largely grind to a halt.
Naturally, the services sector on which the West relies far more than China would be smashed: restaurants; pubs; bars; cinemas; concerts; conferences would all grind to a halt. International travel bans would be put in place. Supply chains would be broken. International trade would collapse along with domestic demand.
The government would immediately start to institute similar quarantine steps as seen in China. Regardless of the differences in political systems, quarantine is quarantine (and the word originates from Venice, after all). Presuming this was ineffective due to earlier symptom-free transmission then the quarantine would have to be expanded. We could expect a mirror of the Chinese villages building barriers around themselves to keep strangers out.
In this kind of scenario, it is impossible to estimate the precise impact on the global economy – because there would be little *global* economy to speak of. Suffice to say, it would be a true depression: a sharp downturn like in 2008-09 that grinds on – and a recovery based on medical breakthroughs rather than monetary-policy ones.
The Unthinkable
This scenario is very short. The flu like virus spreads globally and also mutates, with its transmissibility increasing and its lethality increasing too. The numbers infected would skyrocket, as would casualties. We could be looking at a global plandemic, and at scenarios more akin to dystopian Hollywood films than the realms of economic analysis. Let's all pray it does not come to pass and just remains a very fat tail risk.
However, one can see that in each of these four scenarios things are ugly, even in the first two ones. As such, the relative financial market optimism still seems to be based on the belief that central-bank liquidity supersedes virus transmissibility. That's still quite optimistic given the uprise in uncertainty about the coronavirus.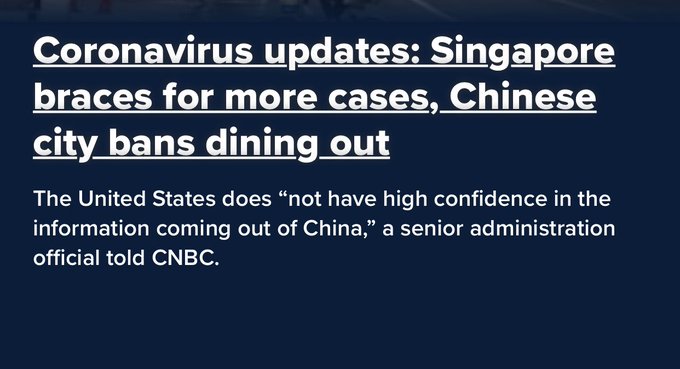 Why Is The Government Turning 11 Military Bases Inside The United States Into Quarantine Camps?
If this coronavirus outbreak is not a serious threat, then why is the U.S. government preparing to quarantine victims all over America? As you will see below, 11 U.S. military bases located close to major airports are being converted into "quarantine centers" for potential patients. When I first learned about this, I was greatly alarmed, because we have all seen what is going on in China right now. People are literally being physically dragged out of their homes and are being forcibly relocated to "mass quarantine camps" with hordes of other very sick people. Sadly, many of them will never come out of those camps alive. If this flu like virus starts spreading like wildfire here in the United States, is it possible that something similar could start happening here?
The vast majority of the confirmed cases are still in China, but over the last couple of weeks, the number of cases in the rest of the world has escalated dramatically.
Back on January 20th, there were only 4 confirmed cases outside of China and now there are 464. At this point, there are victims in at least 28 different countries, and that number is almost certain to keep growing.
The reason why the virus has already spread to so many nations is that it is highly contagious. Scientists have discovered that it can be transmitted from person to person very easily, it has an incubation period of up to 24 days, and it can survive on smooth surfaces for up to 9 days.
If this coronavirus starts spreading very rapidly in the western world it is going to create a tremendous amount of panic. Many are still trying to compare this virus to the common flu, but that is a huge mistake. China would never lock down major cities for weeks on end for the flu.
Obviously something really big is happening, and the U.S. government is preparing for a worst-case scenario. According to the Miami Herald, 11 military bases inside the United States are currently in the process of being transformed into "quarantine centers"…
Eleven military bases near major airports in the United States are setting up quarantine centers for possible coronavirus patients, the Department of Defense said.

The Department of Health and Human Services asked the Pentagon for quarantine space in case beds fill up at other coronavirus centers around the country, according to a DOD statement.
Is this an indication that the threat that this virus poses to our country is far greater than we are being told?
The Department of Defense has released a statement about this new program, and in that statement, the 11 military bases were specifically identified…
JB Pearl Harbor-Hickam, HI (HNL)
Great Lakes Training Center Navy Base, IL (ORD)
Naval Air Station Joint Reserve Base, TX (DFW)
March ARB, CA (LAX)
Travis AFB, CA (SFO)
Dobbins ARB, GA (ATL)
Fort Hamilton, NY (JFK)
Naval Base Kitsap, WA (SEA)
Joint Base Anacostia, DC (IAD)
Joint Base McGuire-Dix-Lakehurst, NJ (EWR)
Fort Custer Training Center (DTW)
Hopefully, not all of those facilities will be needed, but things are certainly looking grimmer with each passing day.
For example, the number of confirmed cases on a cruise ship anchored off the coast of Japan nearly doubled on Monday. Of the total number of people that have been infected, at least 24 of them are Americans…
There are at least 24 Americans among the 135 people infected with the Wuhan coronavirus aboard the Diamond Princess cruise ship, according to information from Princess Cruises and a CNN tally.

Japanese authorities are still testing hundreds of passengers on board the ship, which has been stuck at a harbor south of Japanese capital Tokyo for almost a week now.
Once the quarantine of that cruise ship is over, those Americans will certainly want to return home.
Will they be allowed to do so, or will they be required to go to one of these quarantine centers first?
Elsewhere in the country, people are being put in "self-quarantine" until officials believe that it is safe for them to resume their normal lives. According to local officials, this is being done to "an unspecified number of people in Bexar County" right now…
A number of Texans have been put in 'self quarantine' in their homes in case they have the coronavirus after recently returning from China.

Officials in the city of San Antonio confirmed that an unspecified number of people in Bexar County were being confined to their homes for 14 days.

Their quarantine period began at 10am Sunday, News 4 San Antonio reported.
Hopefully, they know what they are doing because if this virus gets out of control it could potentially sweep across America like wildfire.
We have already seen what has happened in China, and we definitely do not want that to happen here.
The Chinese have implemented extreme measures in a desperate attempt to slow the spread of the virus, but so far the most effective thing that they have done to reduce the numbers is to literally change the definition of a "confirmed case". The following comes from Zero Hedge…
As reported by local media this morning, the Chinese National Health Commission quietly changed its definition of Coronavirus "confirmed case" in the latest guideline dated 7/2. As a result, going forward patients who tested positive for the virus but have no symptoms will no longer be regarded as confirmed. As Alex Lam observes, "this inevitably will lower the numbers."
Of course there has been a tremendous amount of skepticism about the numbers that China has been giving us from the very beginning, and so this latest move isn't that surprising.
But no matter how much China tries to spin things, there is no hiding the fact that this is a very serious outbreak, and it will almost certainly continue to intensify in the weeks ahead.
At this point, even the director-general of the World Health Organization is admitting that "we may only be seeing the tip of the iceberg"…
Tedros Adhanom Ghebreyesus, director-general of the World Health Organization, warned that the numbers may not tell the entire story.

"There've been some concerning instances of … spread from people with no travel history to China," Tedros said. "The detection of a small number of cases may indicate more widespread transmission in other countries. In short, we may only be seeing the tip of the iceberg."
As I discussed yesterday, humanity is now facing a "perfect storm", and what we have witnessed so far is just the beginning.
Personally, I am still hoping that this outbreak will fade. I don't know if this is the sort of extremely deadly global pandemic that so many experts have been warning could happen one day, but without a doubt, it is definitely clear that a lot of people are dying over in China.
Will the final death toll from this outbreak eventually number in the thousands or the millions?
I don't know, but all of us should definitely continue to monitor the latest developments on a daily basis.
In another recent discovery, doctors and scientists are sounding the alarm that flesh-eating bacteria is spreading, which is a sign of how the earth and its waters are changing pointing to that foretold in the prophecies.
Chinese authorities announced Tuesday that two people have been diagnosed with the pneumonic plague at a hospital in Beijing — yes, as in the 'Black Death' which wiped out some 50 million of the world's population during the Middle Ages.
Alarmingly, it's the second instance of the plague hitting the region in a matter of months, after last May a Mongolian couple died from bubonic plague after consuming the raw kidney of a marmot, based on a local folk practice.
Officials say the two in this latest case also came from a remote area of Inner Mongolia in Northern China. To mitigate panic, the Chinese Center for Disease Control and Prevention has reportedly issued a public advisory to Beijing residents telling them the potential for contracting the disease is "extremely low," according to The New York Times. Though considering this is literally the plague we doubt anyone will feel reassured by such official advisories.
The patients were quickly isolated by health officials after initial confusion over what they might be dealing with, and are reportedly being given treatment. Left untreated it will cause certain death, but some strains of the plague can be cured through careful administration of antibiotics, unavailable when it struck on a mass scale in medieval times.
What we are witnessing in East Africa and across much of the Middle East right now is hard to believe. 360 billion locusts are eating everything in sight, and UN officials are warning that this plague of "Biblical proportions" could get many times worse over the next several months. Desert locusts can travel up to 93 miles a day, and each adult can consume the equivalent of its own weight in food every 24 hours. These voracious little creatures are traveling in absolutely colossal swarms that are up to 40 miles wide, and they continue to push into new areas. If urgent action is not taken on a massive scale, millions upon millions of people could soon have next to nothing to eat.
Where Are the WatchMan_ the WatchMan That Would Boldly Confront the Ruling Class with Harsh Truths…
I have previously written about the horrors that this plague is causing in east Africa, but many people don't realize that this plague is devastating crops throughout the Middle East as well.
In fact, the government of Pakistan just declared a national emergency because of these locusts…
A locust plague is wreaking havoc in Pakistan as 'unprecedented and alarming' swarms ravage crops as shocking video shows millions of the insects sweeping through Saudi Arabia.

Pakistan's government declared a national emergency at the weekend after an infestation of desert locusts arrived in eastern Pakistan.
In Saudi Arabia, the swarms have been so thick at times that they have completely blocked out the sun, and video footage coming out of that country is getting attention all over the world…
Meanwhile swarms of locusts have been milling the skies in Saudi Arabia, with one video circulating online showing the sky saturated with the insects.

Another shows a tree in Saudi Arabia crawling with desert locusts, which consume their own bodyweight in food each day.
But of course, east Africa remains the hardest-hit region, and UN officials are warning that a horrible famine could rapidly develop as a result of this plague. The following comes from Scientific American…
Locust swarms of biblical proportions are threatening crops across a wide swath of Africa and southwest Asia—spurring alarm among top international officials.

A major concern is famine. The United Nations is warning that mass swarms of desert locusts are endangering food supplies in eastern Africa. In response, officials in Rome mobilized an emergency briefing yesterday in a bid to raise money—noting the situation has a high potential to devolve into a full-blown crisis.
"Huge" infestation is threatening to destroy communities and economies in east Africa that is entirely reliant on local food supply. One media source likened it to a Biblical Locust Plague With Swarms the Size of Cities.
The invading locusts are "deadly" in the sense that these 'mega-swarms' devour crops at an incredibly rapid pace — at a faster rate of destruction than other natural disasters.
A motorist in Kenya filmed one of the latest apocalyptic swarms in east Africa.
The clip was taken from an unknown location in Kenya, shows the moment when a motorist drove into a swarm of millions of locusts.
Out in the distance, a black blob can be seen, looks almost like a cloud, but when the vehicle drives closer, it turns out to be locusts.
If locust swarms are coupled with a COVid-19 breakout, parts of Africa could be in great danger. Week 7 into the new decade, and it seems the world is on fire.
It would be incredibly difficult for me to overstate the scale of this crisis.
According to the Daily Mail, the number of locusts has now reached 360 billion…
A locust plague decimating crops and livestock pastureland in east Africa, including swarms 40 miles wide, threatens to trigger a humanitarian crisis, the UN has warned.

The horde of 360 billion insects has laid waste to farmland across Ethiopia, Kenya and Somalia, caused damage in Dijibouti and Eritrea, posing an unprecedented threat to food security.
There are less than 8 billion people living on the entire planet.
So this swarm of locusts outnumbers us by a margin of more than 45 to 1.
And what these locusts want more than anything else is food. If you doubt the destructive power of these swarms, please consider what the FAO's senior agriculture officer recently had to say…
"It's certainly the most dangerous migratory pest in the world, desert locust," said Keith Cressman, FAO's senior agriculture officer. "A swarm the size of Rome can eat enough food in one day as everybody in Kenya."
And some of these swarms are actually bigger than the city of Rome.
I know that may be difficult to believe, but it is true.
In Somalia, officials are calling this crisis "a national emergency" as the locusts consume "huge amounts of crops"…
Somalia's agriculture ministry on Sunday called the outbreak a national emergency and major threat to the country's fragile food security, saying the "uncommonly large" locust swarms are consuming huge amounts of crops.
Over in Kenya, things are even worse. At this point, the only viable way to combat these swarms is to spray them, and the UN is desperately asking for financial help to aid in that effort…
Just five planes are currently spraying as Kenyan and other authorities try to stop the locusts from spreading to neighboring Uganda and South Sudan. The United Nations has said $76 million is needed immediately to widen such efforts across East Africa.

A fast response is crucial. Experts warn that if left unchecked, the number of locusts could grow by 500 times by June, when drier weather will help bring the outbreak under control.
UN officials keep claiming that the number of locusts could get 500 times larger over the next few months, but I am having a really hard time believing that this plague could possibly get much worse than it is now.
Unfortunately, conditions are very favorable for breeding, and these locusts are constantly searching for new sources of food. They will continue to migrate in new directions, and they will eat crops everywhere they go.
According to Scientific American, the breeding cycles over the next couple of months could push the locust swarms as far as India…
Cyclones that struck the driest parts of the Arabian Peninsula last year triggered the current crisis, creating ideal conditions for the desert locust species to multiply. Left to breed in isolated corners of Saudi Arabia and Yemen, the locust swarms crossed to the Horn of Africa where they were given further support by another cyclone.

More breeding cycles are expected. The swarms increase in size twentyfold with each successive generation and could reach India by June.
When I first told my wife about this locust plague she was absolutely horrified.
She wondered what all those people would eat if all their crops were gone. Of course, the truth is that they aren't going to have much of anything to eat.
These locusts are going to create a famine, and the more they eat the worse the famine will become.
We have never seen anything like this before, and this is yet another "unprecedented crisis" that we can add to all the others that we are currently facing.
Our planet is changing, global weather patterns are going absolutely nuts, and worldwide events are really starting to spiral out of control.
And at this point, we are just a little over one month into 2020. If you think that things are bad so far, just wait until you see what is coming over the course of the rest of the year.
The outbreak of this mysterious new coronavirus is getting more frightening with each passing day. As you will see below, even the mainstream media is admitting that the number of cases shows "no signs of slowing" even though the Chinese government has implemented draconian measures in a desperate attempt to contain the virus. Many in the western world continue to insist that this disease is not any more dangerous than the common flu, but the Chinese never locked down entire cities for the flu before. In recent days, the images that have been coming out of China have been absolutely horrifying. If these images are accurate, people are literally dropping dead in restaurants, in shopping malls, and in public transportation hubs. At the epicenter of this outbreak, crematoriums in Wuhan are burning bodies 24 hours a day as they try to keep up with the flood of dead bodies coming in, and the workers at those facilities are completely and totally overwhelmed.
The B.e.a.s.t Is Built, It Appears Pres. Trump Will Be a Big Part of the Coming Tribulation
Trump Administration Considering Social Credit Score System to Determine Who Can Buy a Gun, the Anti-Christ System Is in Place and ready to be Implemented
THE MARK OF THE BEAST WILL BE AN END-TIMES IDENTIFICATION REQUIRED BY THE ANTICHRIST IN ORDER TO BUY OR SELL.
The Trump administration is considering launching a social credit score-style system in coordination with Big Tech that would use spy data collected from Amazon, Google and Apple devices to determine whether or not an individual can own a gun.
"The proposal is part of an initiative to create a Health Advanced Research Projects Agency (HARPA), which would be located inside the Health and Human Services Department," reports the Daily Caller. "The new agency would have a separate budget and the president would be responsible for appointing its director."
In other words, data collected from devices that spy on private conversations and closely monitor user behavior would be used to strip Americans of their fundamental rights.
"Though the proposal is starting as a voluntary data collection scheme allegedly aimed at finding warning signs of mental illness, we all know so-called "voluntary" government programs often become mandatory at the drop of a hat," comments Chris Menahan.
According to the Washington Post, Trump has reacted "very positively" to the idea.
MSM, High-Tech & Reddit Engaged in Heavy Censorship of Truthful News Sources
Source: HNewsWire CensoredNews ZeroHedge Themostimportantnews
StevieRay Hansen
Editor, HNewsWire.com
Google, No More Electronic Prison: You will see many changes on HNewsWire, one of those changes will be to eliminate Google Ads, the other difference, HNewsWire will NOT post videos on YouTube, it is no longer a question about overreach by the un-godly big tech tyrants. There is no question Big Tech can and will persecute any opposing opinion, they will demoralize, sideline truth seekers and those that speak the truth. The People's Blood is on big tech and mainstream media's hands. Censorship has NOT worked for thousands of years, their evil tactics will not work now, history proves me right, so we watch the drama play out between good (GOD) and evil ( Big Tech MSM ), God has never failed his people, and God will not fail this time…
StevieRay Hansen
The Un-Godly — Those That Suppress the Truth, the social media giants built multi-billion dollar empires by giving everyone a voice, but now that they have such a dominant position on the Internet they have decided that many prominent conservative voices should be completely silenced.
In order for sin to work, there has to be a "suppression of the truth."
The World leaders Are Having Trouble With The Truth, and The World Has been "Quarantined" Tribulation Is Here…
Question — Why Are These High-Tech Conglomerates Afraid of the Truth? The answer, Because They Know the American People Have Become Lazy, Like Sheep They Need a Leader and They Chose High-Tech, It Will Be the Downfall of This Country Unless the People Change Course or the Mindset of These High-Tech Elitists stop suppressing the truth. If the people don't wake-up, they will begin to live in the worst nightmare of their lives, "Lost Social Media Reality"…
Demon Virus
Asked about the virus while traveling abroad last week, Trump said: "We have it totally under control". In a separate Twitter posting, he offered reassurance but scant detail for his confidence. By Associated Press Updated On: 05:53 PST, Jan 31, 2020
Yes, are we seeing a slowdown in new virus cases reported this morning. We now have 31,481, which does show a day-to-day decline away from an exponential rate of growth if accurate. Yet for those market participants merrily saying this is "just the flu" (there are some) we also have 4,824, 15% of the total, in critical condition and 638 deaths. Further, one arguably cannot measure the death-rate of any virus against the number of currently sick people: you surely measure it against those who eventually recover vs. those who don't. Given we have 1,563 who have recovered vs. 638 dead (and 4,824 critical) that is a worrying ratio of 29% dead as an end-outcome, which is right up there with the MERS virus from a few years ago – although, yes, there is real reason for us all to hope that number will decline sharply as milder cases will be fully curable. But the simple flu this is not.
WASHINGTON: Wuhan coronavirus: Donald Trump says deadly outbreak 'very well under control' as WHO declares a global emergency. President Donald Trump regaled a friendly New Jersey campaign crowd with his thoughts about impeachment, the economy, the border wall, local politics and much more.
But he was conspicuously quiet on January 28 about one big issue keeping much of the globe on pins and needles: the spread of a deadly new type of coronavirus. It has killed more than 170 people in China, sickened thousands more there and led to a handful of confirmed cases in the US, including the first US case of person-to-person transmission reported on by health officials. The State Department on January 30 advised all US citizens against traveling to China.
Trump, a self-described germaphobe, generally has discussed the virus in broad terms, but he offered some of his most extensive comments on the issue to date during an appearance on January 30 at a Michigan manufacturing plant. "Hopefully, it won't be as bad as some people think it could be, but we're working very closely with them (Chinese) and with a lot of other people and a lot of other countries, he said. "We think we have it very well under control."
The Birth Pains Are Growing Stronger….
One of the signs of ruling class collapse is when they can no longer enforce the rules that maintain them as a ruling class. When the Romans started making exceptions to republican governance, it was a matter of time before someone simply decided the rules no longer applied to them. Perhaps the robot historians will consider Obama our Marius or Sulla. Maybe that person is in the near future. Either way, the rule of law is over and what comes next is the rule of men.
"Man will ultimately be governed by God or by tyrants." as in Nancy Pelosi (D-San Fran-feces)
Our government has been overthrown. As evidenced by Trump's capitulation on the border, his recent servitude to the GMO industry and his acquiescence to the warmongers, our President has been compromised. Our liberties are being eliminated one by one. Gun confiscation is next. The Constitution is gasping its last breaths. Our borders are destroyed and our culture has been turned upside down by every perversion known to man.
The watchman does not confuse truth with consensus. The Watchman does not confuse God's word with the word of those who happen to hold power at present, or with the opinion of the majority. This is because powerholders and the majority can fall victim to a lying spirit-and this means a power that actually seizes the majority of experts, the political leadership, and the public.
Everything is right on schedule and, now, the time is come to remove one of the final obstacles standing in the way of a New World Order: The United States Constitution – even if, over the course of many decades, it has already been greatly diminished by the B.E.A.S.T. system; or, more specifically, Bullshit Emerging As Strategic Totalitarianism (B.E.A.S.T.).
They are tolerant of everything except dissenting values and opinions — meaning, of course, they are tolerant of nothing that matters, only themselves."
Let Me Make This Abundantly Clear. (I Am Apolitical) While I Have a General Distaste for Electric Cars and Politicians No Matter the Party They Belong To, I Am Unashamedly Politically a Bible Believing Conservative Christian. I Have a Severe Distrust of Government. I Believe It Is the Most Inefficient and Ineffective Way to Accomplish Most Things. While I Strongly Disagree with Liberals/Progressives and Conservative on Most Political Issues, and While I Believe Liberals/Progressives and Most Politicians Are Misguided and Naive About What Big Government Will Eventually Result In, I Strive to Not Question Their Motives. At the Same Time, I Find Myself in Agreement with Conservative on Some Issues, and I Do Not Believe Electing Republicans Is the Answer to Everything. Sadly, the Main Difference Between Republicans and Democrats Is How Quickly They Want to Drive the Car Towards the Cliff. Put, I Do Not Believe the Government Is the Solution for Everything. I Do Not Place Any Faith, Trust, or Hope in Any Politicians to Fix What Is Wrong with the World. "Come Lord Jesus!" (Revelation 22:20) SRH…
The Watchman does not confuse truth with consensus. The watchman does not confuse God's word with the word of those who happen to hold power at present, or with the opinion of the majority. This is because powerholders and the majority can fall victim to a lying spirit-and; this means a power that seizes the majority of experts, the political leadership, and the public.StevieRay Hansen
If you have a news scoop or an interesting story for us, please reach out at info@HNewsWire.com
Biological Weapon, Coronavirus, Covid-19, Pestilence Falsifying Death Toll From Coronavirus, biblical truth, Prophecy, tribulation, antichrist, United Nations Revelation 17 the BEAST+ B.E.A.S.T, US Coronavirus, demon virus, CDC, WHO, end times, No More Electronic Prison, Birth Pains, MSM, High-Tech & Reddit Engaged in Heavy Censorship of Truthful News Sources, President Trump
The Land of the Free doesn't give a rat's-arse how they are perceived anymore.
My job is protecting children. It has taken me from big cities to rural outposts, from ghettos to penthouses, and from courtrooms, into demonic battlefields. But whatever the venue, the truth remains constant: Some humans intentionally hurt children. They commit unspeakable acts—for their pleasure, their profit, or both. StevieRay Hansen, CEO The 127 Faith Foundation
My job is protecting children. It has taken me from big cities to rural outposts, from ghettos to penthouses, and from courtrooms, into demonic battlefields. But whatever the venue, the truth remains constant: Some humans intentionally hurt children. They commit unspeakable acts—for their pleasure, their profit, or both. StevieRay Hansen, CEO The 127 Faith Foundation
My job is protecting children. It has taken me from big cities to rural outposts, from ghettos to penthouses, and from courtrooms, into demonic battlefields. But whatever the venue, the truth remains constant: Some humans intentionally hurt children. They commit unspeakable acts—for their pleasure, their profit, or both. StevieRay Hansen, CEO The 127 Faith Foundation
The number of Orphans aging out of Child Protective Custody has grown at an alarming rate. The 127 Faith Foundation receives many requests each week to house them at our ranch. Our prayer is that the good people of our country will step up to the challenge and offer financial support for "the least among us." We need your help! StevieRay Hansen, Founder, The 127 Faith Foundation
We make every effort to acknowledge sources used in our news articles. In a few cases, the sources were lost due to a technological glitch. If you believe we have not given sufficient credit for your source material, please contact us, and we will be more than happy to link to your article.