Advisory: Be careful of what you read on social media. The algorithms used by these platforms have no regard for Biblical truth. They target your emotions to keep you engaged on their site so their advertisers can drop more ads. These platforms exist to enrich their stockholders. Consider God's promise to Believers in James 1:5, "If any of you lacks wisdom, you should ask God, who gives generously to all without finding fault, and it will be given to you."
A Timeline Of Facts Linking Covid-19, HIV, & Wuhan's Secret Bio-Lab…
we thought a reminder of how we got here was in order…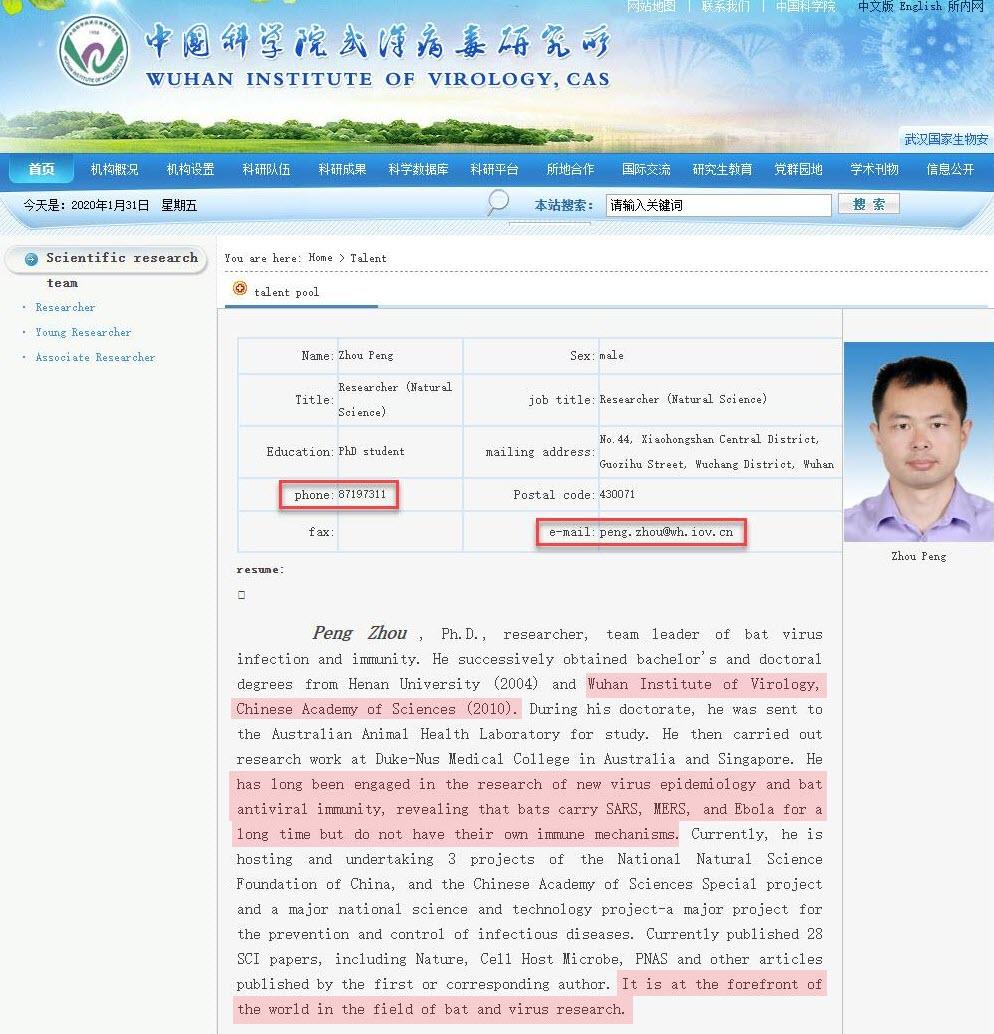 Scott Burke, CEO of crypto-related firm Groundhog, unleashed what we feel may be the most complete timelines of facts to help understand the controversial links between COVID-19 and HIV, and COVID-19 and Wuhan Institute of Virology.
Want to go down a (strictly fact-based) rabbit hole?
Here is the full slightly-edited-for-formatting twitter thread…
A disclaimer: I am not a virologist. This is me synthesizing what we have learned since the outbreak began and reviewing public scientific papers. I believe each of the following statements is a solid fact, backed up by a citation.
I also want to say that I understand some people are worried about blame being cast for this outbreak. Obviously we are all in this together, and my intention here is not to cast blame. These links overwhelmingly compel further scrutiny but are not conclusive.
I do think however that information is being downplayed and suppressed by some scientists and media outlets and it's our duty to find out the facts about this virus, do what we can to mitigate the outbreak and prevent it from happening again.
Ready?…
So there's original SARS, which is a type of coronavirus. SARS infects cells through the ACE2 receptor in hosts.
The S spike protein plays a key role in how the virus infects cells. Each of the little spikes that surround the coronavirus is a spike protein (or S protein). That's what gives the coronavirus its name – it's "crown" of these spikes.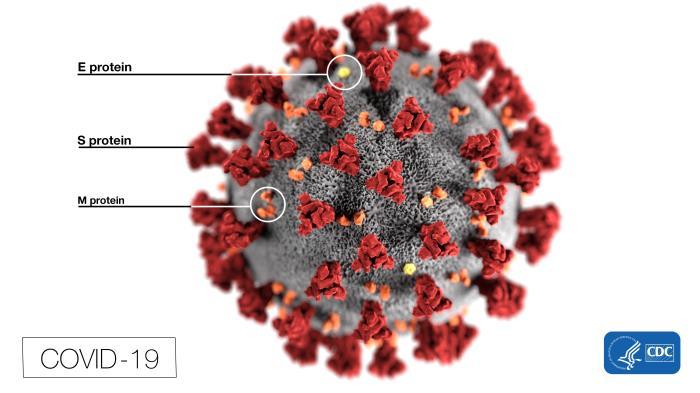 The S protein binds to the targeted cell through the ACE2 receptor, and boom, your cell is infected and becomes a virus replication factory.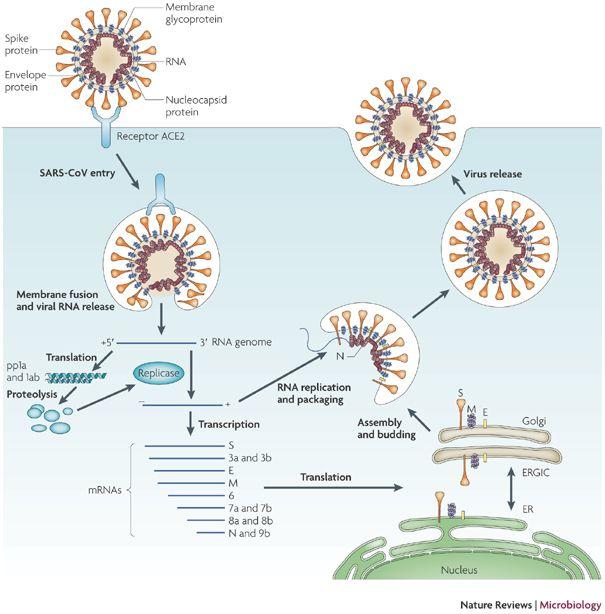 After the first SARS outbreak, there was a "land rush" to find other coronaviruses. A collection of SARS-*like* coronaviruses was isolated in several horseshoe bat species over 10 years ago, called SARS-like CoVs, or SL-CoVs. Not SARS exactly, but coronaviruses similar to SARS.
In 2007, a team of researchers based in Wuhan, in conjunction with an Australian laboratory, conducted a study with SARS, a SARS-like coronavirus, and HIV-1.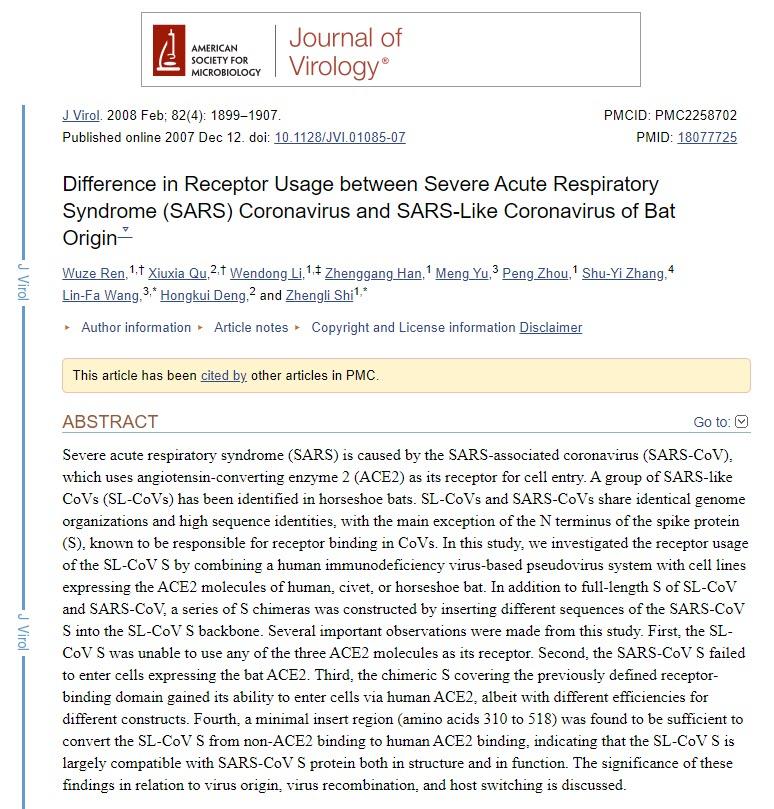 The researchers noted that if small changes were made to the S protein, it broke how SARS-CoV worked – it could no longer go in via ACE2. So they inferred the S protein was critical to the SARS attack vector.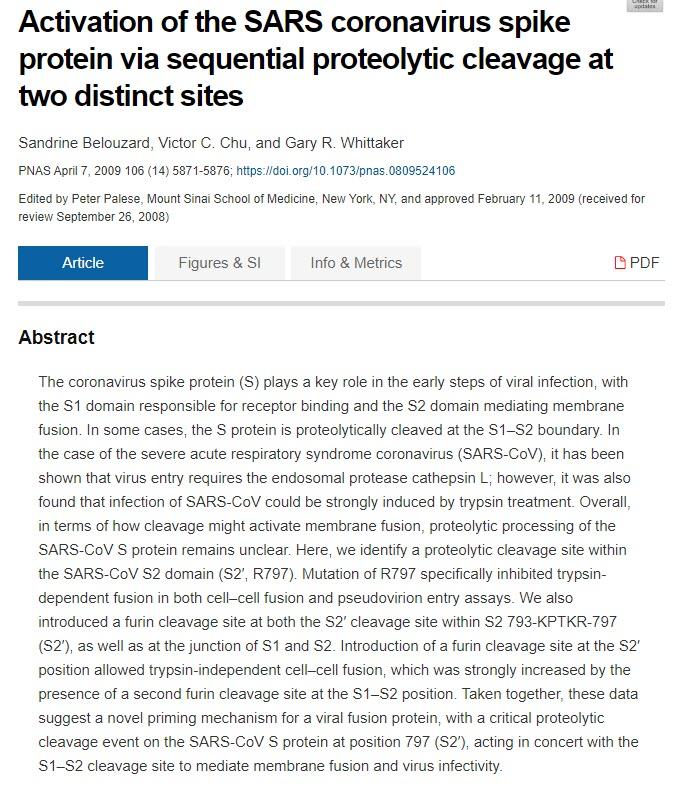 They also predicted based on the S-ACE2 binding structure, that SARS-like CoVs were not able to use this same attack method (ACE2 mediation).
They decided to create a pseudovirus where they essentially put a SARS-like CoV in an HIV envelope.
It worked.
Using an HIV envelope, they replaced the RBD (receptor binding domain) of SL-CoV with that of SARS-CoV and used it to successfully infect bats through ACE2 mediation.
12 years go by…
A SARS-like CoV begins sweeping the globe that is far more infectious than previous outbreaks.
Ground Zero for this outbreak (not first human patient, but first spreading event) is considered to be Wuhan Seafood Market.
Wuhan Seafood Market is 20 miles from the National Biosafety Laboratory at Wuhan Institute of Virology.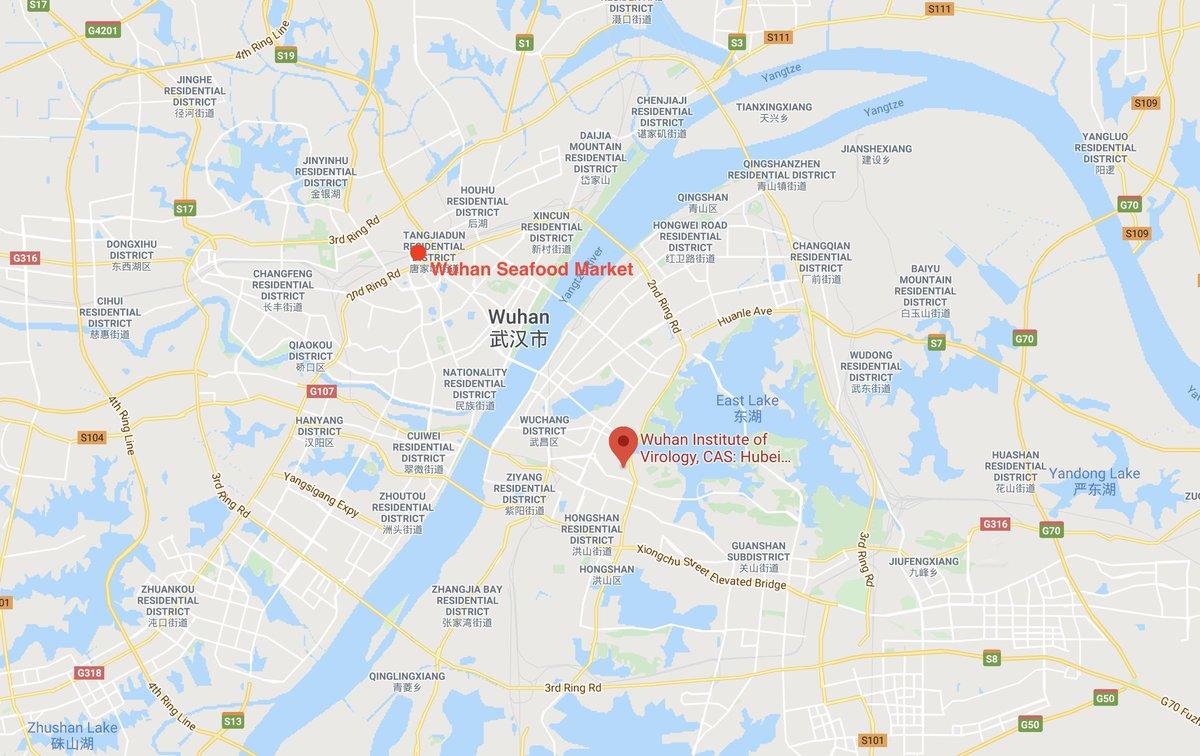 Amidst the outbreak, a team of Indian bioinformatics specialists at Delhi University released a paper pre-print…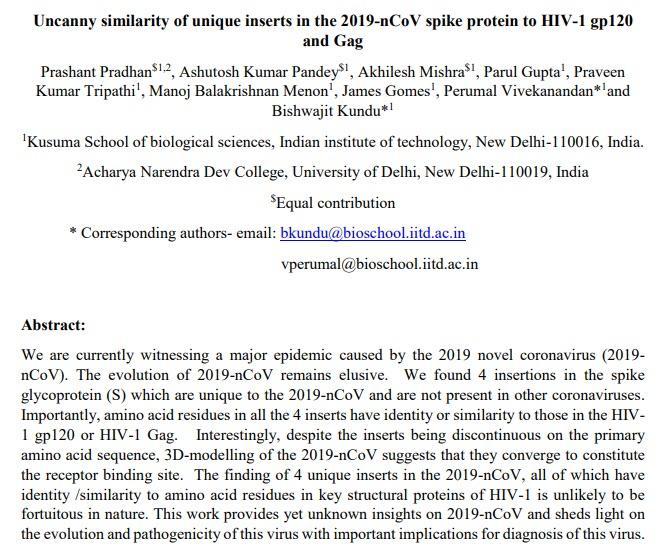 COVID-19 has a unique sequence of about 1,378 nucleotide base pairs long that is not found in related coronaviruses. They claimed to identify genetic similarities in this unique material between COVID-19 and HIV-1.
Specifically, they isolated 4 short genetic sequences in key protein structures (the receptor-binding domain, or RBD).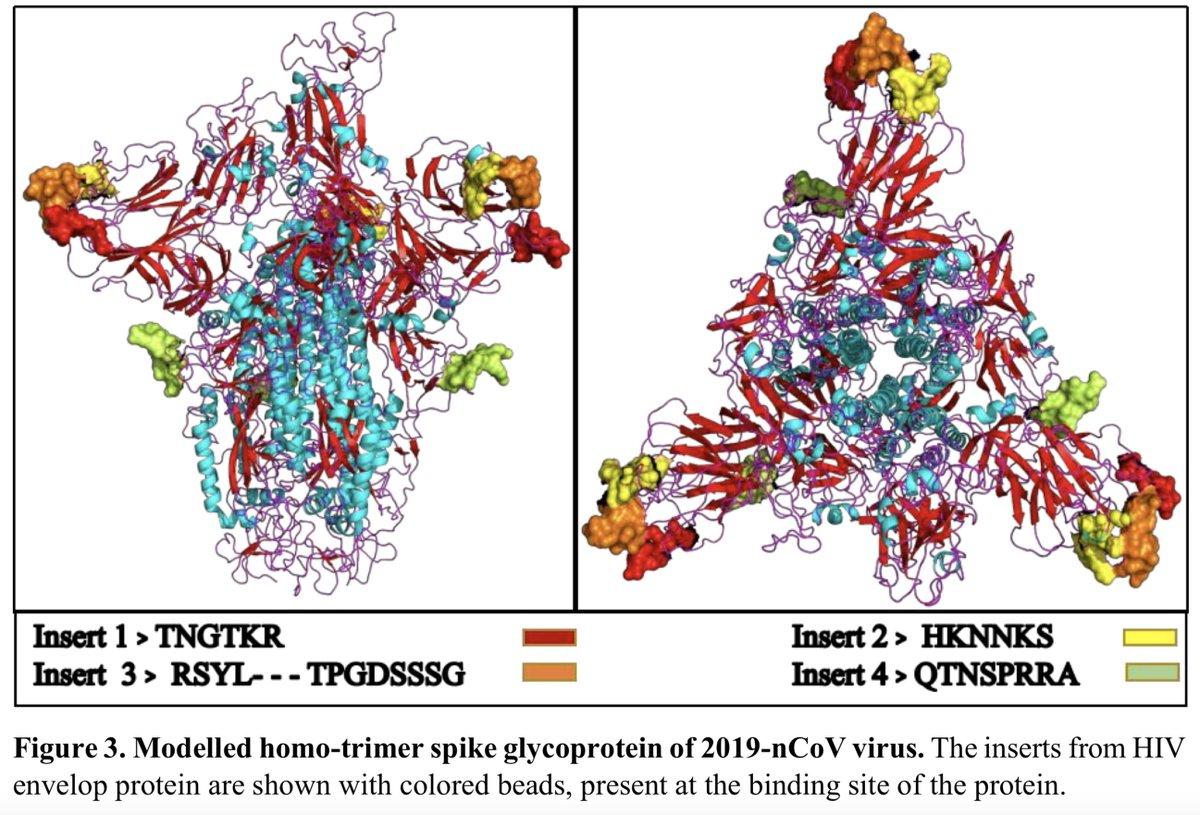 Two of the sequences were perfect matches (albeit, short), and two of the sequences were matched but each with an additional string of non-matching material appearing in the middle of the sequence.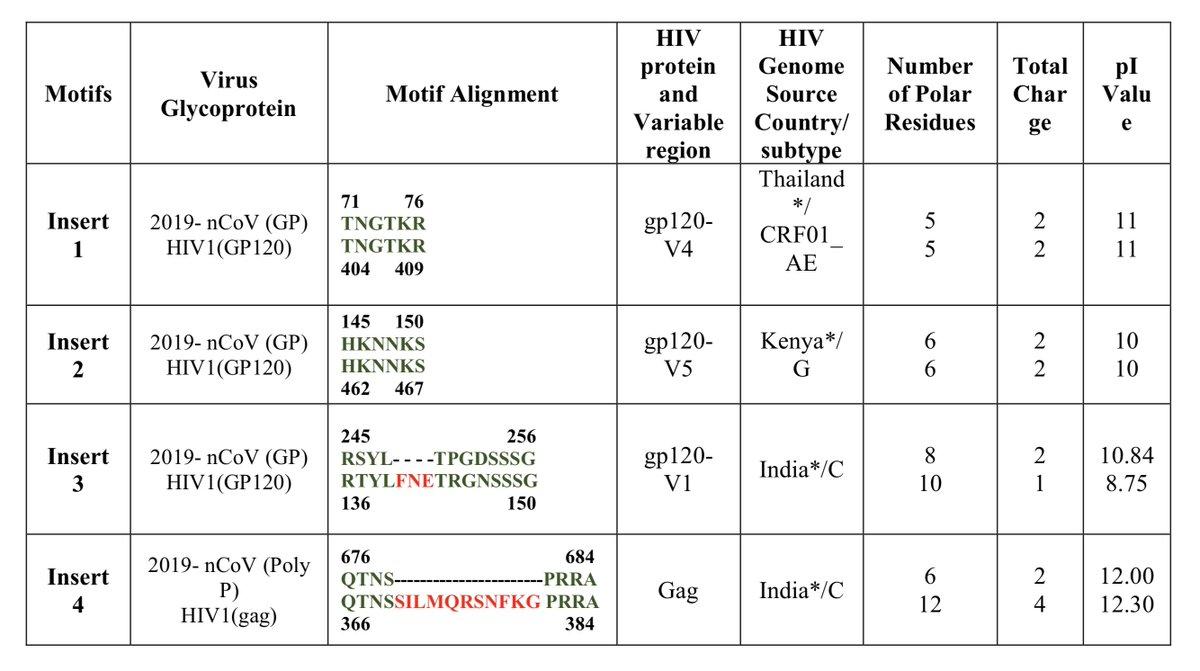 The paper was criticized and numerous attempts have been made to debunk it. After the criticism, the authors voluntarily withdrew it, intending to revise it based on comments made about their technical approach and conclusions.
One key debunking attempt claims this:
The same sequences are found in a variant called BetaCoV/bat/Yunnan/RaTG13/2013, which had been found "in the wild" in bats.
This is an attempt to prove that it was not engineered, but mutated naturally in the wild.
But there's a problem…
This strain was only known by and studied at the Wuhan Virology Institute, and although they claim it was discovered in 2013, it wasn't published or shared with the scientific community until immediately after the Indian paper, on January 27, 2020.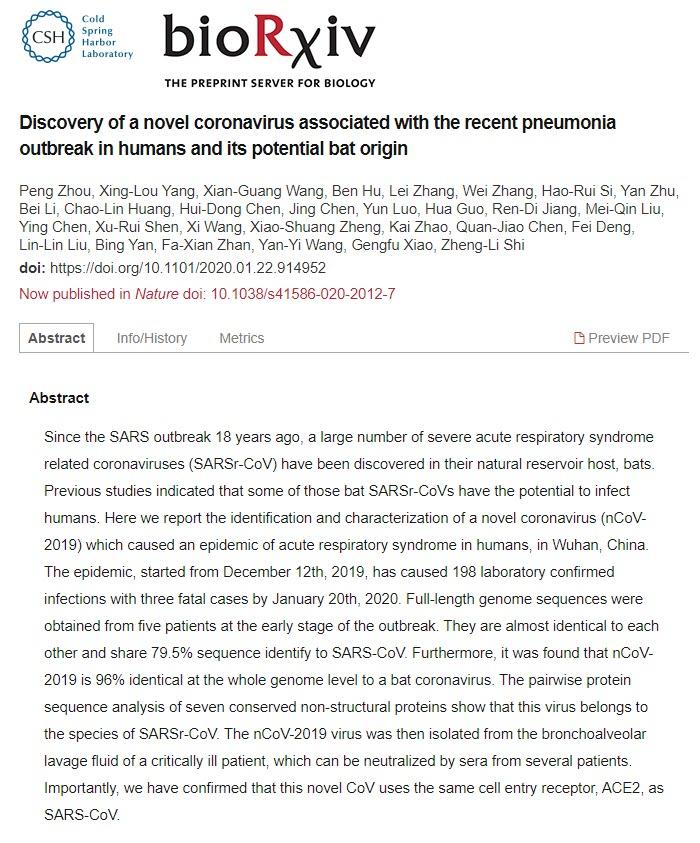 The RatG13 strain publication and the HIV research paper from 2008 share an author.
I discovered this on my own by comparing the two papers and then quickly realized this scientist's contact information was the information that ZeroHedge was suspended from Twitter for sharing.
Their article identifies this author in question including some contact information from the Wuhan Virology Institute web site.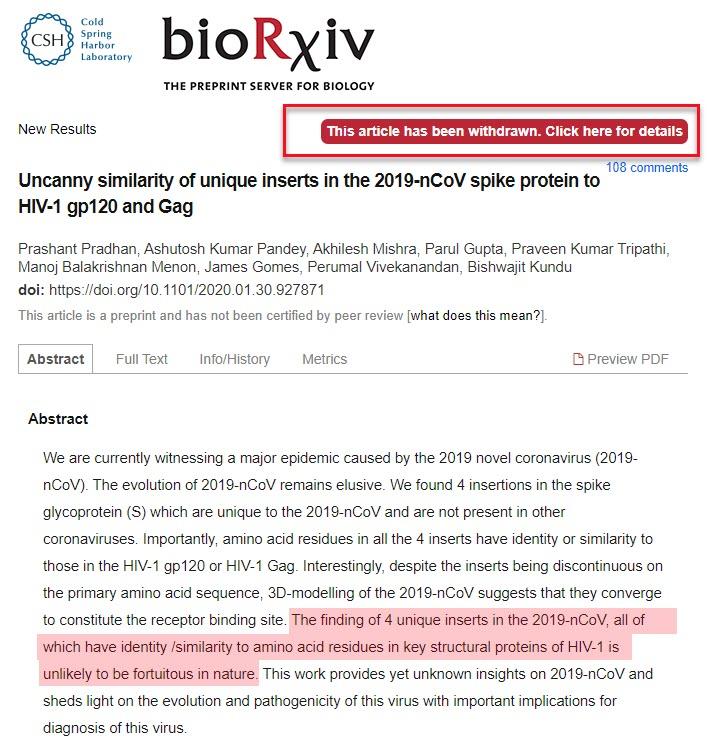 There is a line of inquiry about how the sequences are remarkably stable in between the "bat" CoV and the nCoV, where in nature they would likely have mutated in between their shared evolution. Also a call for greater scientific evidence that the strain was collected in the wild.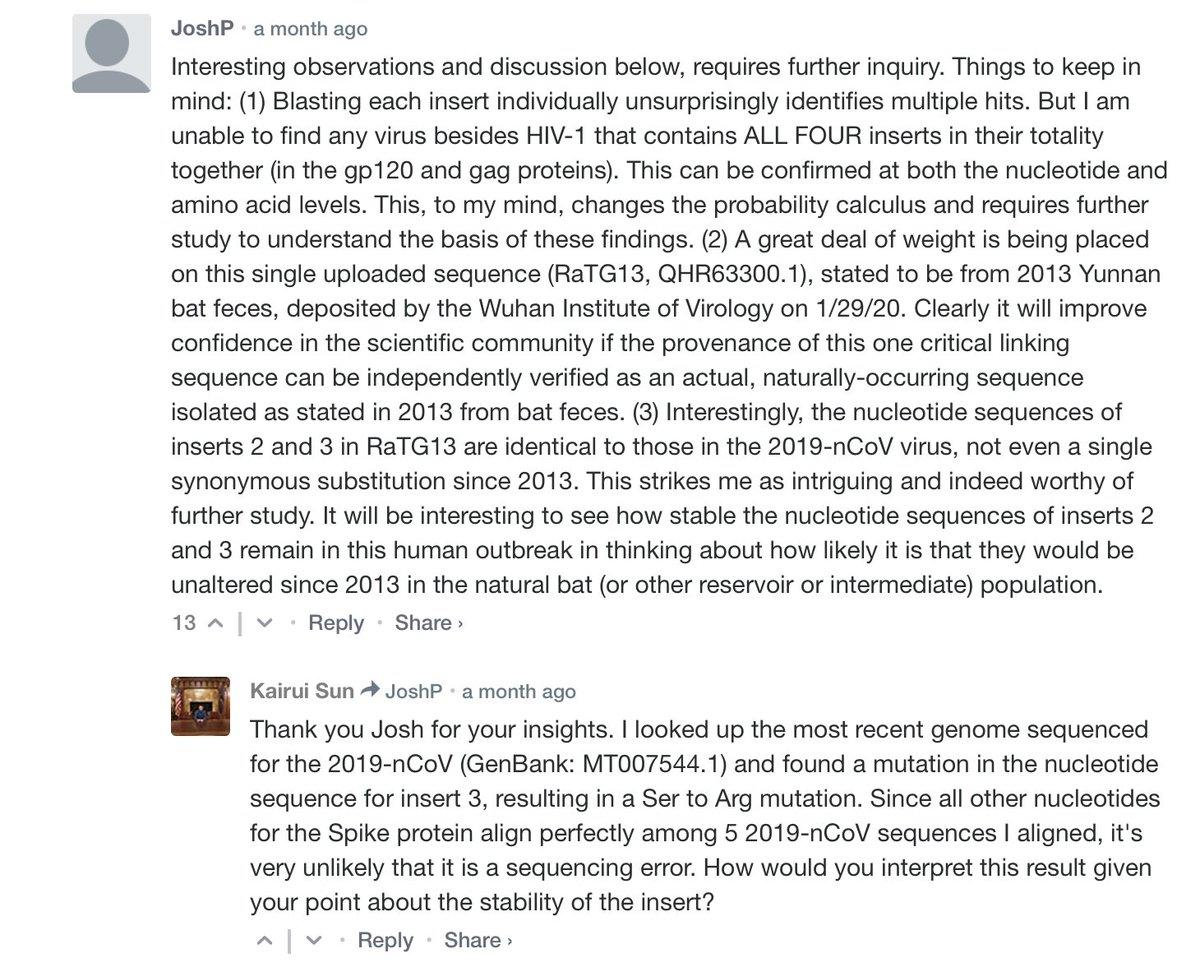 Here is the only point in this thread where I will offer my opinion rather than a list of facts: In light of all the previous facts, the efforts to debunk the paper are not yet convincing in my view.
The RaTG13 paper makes the claim that, oh, that HIV-related material you identified that happens to protein fold to become a perfect attack vector for nCoV to attack ACE2?
It's a relative of this other secret virus which came from the wild which we forgot to tell the scientific community about until now for no reason.
Here's the secret virus – it came from bats – and here's the new virus, see, they have the same HIV-related sequences… so… bats!
Totally not secret pathogen research which escaped the lab.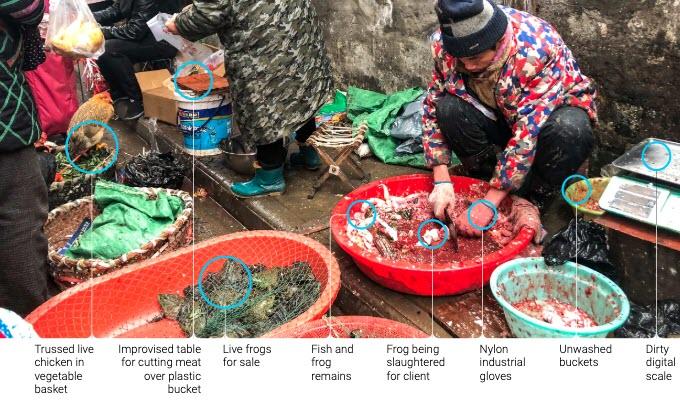 What are the odds that a SARS-like coronavirus with overlapping genetics from HIV mutated and crossed over into humans, next door to a laboratory which had been enhancing coronavirus with HIV for over a decade? And conversely, what are the odds it leaked out of the laboratory?
* * *
Finally, there is a great thread here by Trevor Bedford (@trvrb) examining the evidence for and against, with key replies challenging the conclusions made as well.

Trevor Bedford@trvrbReplying to @trvrb
There is a nice "Bayesian" way to compare theories and think about evidence. I'm showing the probability of observing the data at hand given different theories. We want to compare the likelihood of observing this data, compared to other outcomes consistent with a theory. 3/21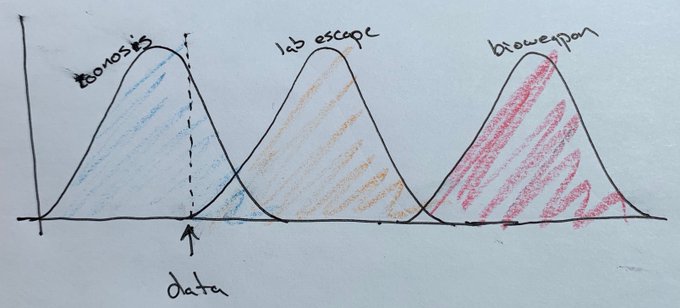 855:24 PM – Feb 20, 2020Twitter Ads info and privacy29 people are talking about this
Let's learn! What do you think? Maybe I'm wrong! Can anyone disprove any of the links in the chain above? One thing is for sure, the science behind all this is fascinating.
At least 550,000 cases. Maybe 4.4 million. Or something in between...
Like weather forecasters, researchers who use mathematical equations to project how bad a disease outbreak might become are used to uncertainties and incomplete data, and Covid-19, the disease caused by the new-to-humans coronavirus that began circulating in Wuhan, China, late last year, has those everywhere you look. That can make the mathematical models of outbreaks, with their wide range of forecasts, seem like guesswork gussied up with differential equations; the eightfold difference in projected Covid-19 cases in Wuhan, calculated by a team from the U.S. and Canada, isn't unusual for the early weeks of an outbreak of a never-before-seen illness.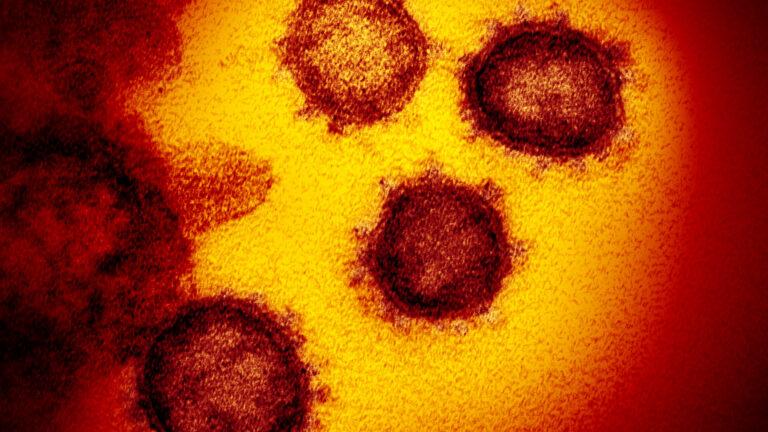 But infectious-disease models have been approximating reality better and better in recent years, thanks to a better understanding of everything from how germs behave to how much time people spend on buses.
"Year by year there have been improvements in forecasting models and the way they are combined to provide forecasts," said physicist Alessandro Vespignani of Northeastern University, a leading infectious-disease modeler.
That's not to say there's no room for improvement. The key variables of most models are mostly the same ones epidemiologists have used for decades to predict the course of outbreaks. But with greater computer power now at their disposal, modelers are incorporating more fine-grained data to better reflect the reality of how people live their lives and interact in the modern world — from commuting to work to jetting around the world. These more detailed models can take weeks to spit out their conclusions, but they can better inform public health officials on the likely impact of disease-control measures.
Models are not intended to be scare machines, projecting worst-case possibilities. (Modelers prefer "project" to "predict," to indicate that the outcomes they describe are predicated on numerous assumptions.) The idea is to calculate numerous what-ifs: What if schools and workplaces closed? What if public transit stopped? What if there were a 90% effective vaccine and half the population received it in a month?
"Our overarching goal is to minimize the spread and burden of infectious disease," said Sara Del Valle, an applied mathematician and disease modeler at Los Alamos National Laboratory. By calculating the effects of countermeasures such as social isolation, travel bans, vaccination, and using face masks, modelers can "understand what's going on and inform policymakers," she said.

For instance, although many face masks are too porous to keep viral particles out (or in), their message of possible contagion here! "keeps people away from you" and reduces disease spread, Del Valle said. "I'm a fan of face masks."
The clearest sign of the progress in modeling comes from flu forecasts in the U.S. Every year, about two dozen labs try to model the flu season and have been coming ever closer to accurately forecasting its timing, peak, and short-term intensity. The U.S. Centers for Disease Control and Prevention determines which model did the best; for 2018-2019, it was one from Los Alamos.
Los Alamos also nailed the course of the 2003 outbreak of SARS in Toronto, including when it would peak. "And it was spot on in the number of people who would be infected," said Del Valle: just under 400 in that city, of a global total of about 8,000.
The eventual price of substituting magical thinking and survivorship bias for actual evidence will be far higher than the complacent realize.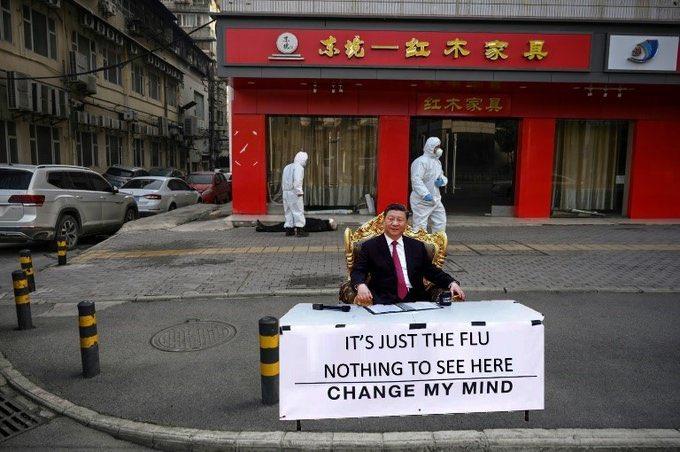 Here's a sampling of complacent assertions being made about the COVID-19 virus as if they were certitudes:
It's no worse than a bad cold.
It's less deadly than normal flu.
You can't catch it unless you're in sustained close contact with a carrier.
Carriers are only contagious for 14 days. After that, you're home free.
A vaccine is just around the corner.
The Chinese government has it under control.
Only 2,000 people have died, it's no big deal.
The few cases in other countries are being managed, and it will soon disappear.
The pandemic will fade away by April due to rising temperatures.
China's GDP will only take a 1% hit, and global growth will only drop by 0.25%.
Interestingly, there is no large-scale, credible data to support any of these claims. But the complacent is not just falling for false claims being passed off as "facts" rather than what they really are–magical thinking–they're making a much larger error known as Survivorship Bias.
The complacent are focusing on the few who have been tested for the virus, not the millions who haven't been tested.
The complacent are focusing on the accurate tests, not the many carriers who tested negative or the healthy people incorrectly tagged by false-positive tests. The complacent are overlooking the fact that multiple tests are needed to confirm and even multiple tests can fail.
The complacent are focusing on the few who went to the hospital to get tested and treated, not the multitudes who did not go to a doctor or hospital (for a variety of reasons).
The complacent are focusing on the few carriers who have been forcibly hauled off by Chinese police and not the many who have wisely hidden away from prying eyes.
The complacent are focusing on the few facilities with test kits, not on the multitude of clinics that do not have test kits.
The complacent are focusing on the few who have been identified as carriers in other nations, not the asymptomatic carriers who have not been identified because of 1) they have no symptoms and thus no reason to get tested and 2) they chose not to go to a doctor or hospital despite having symptoms.
In effect, the complacent are focusing solely on the few carriers who are symptomatic and have been tested, not on the much larger number of asymptomatic carriers who have not been tested. The complacent are ignoring the highly contagious nature of COVID-19, and the impossibility of controlling a virus that can be spread by asymptomatic carriers for up to 24 days.
The complacent are assuming 100% of all carriers outside China have come forward and been identified as carriers via tests when the reality is asymptomatic carriers don't even know they are infected and contagious.
The complacent are assuming every healthcare facility in China has test kits in such abundance that they can test suspected carriers three times to confirm the diagnosis when the reality is test kits are scarce and one test is not enough to make a reliable assessment. Carriers can test negative, positive and then negative.
The complacent are assuming casual contact isn't enough to catch the virus while a rising tide of cases confirm that brief, casual contact is enough to get the virus.
The complacent are assuming 100% of symptomatic carriers will go to the hospital to be tested and treated when an unknown but a consequential number of symptomatic carriers are fearful of what will be done to them and their families by authorities, so they hide from prying neighbors and authorities.
The complacent are assuming that asking people if they recently visited China or hosted a visitor from China will identify 100% of the asymptomatic carriers when there is already proof that asymptomatic carriers have caught the virus from others: they did not visit China or have any known contact with anyone who came from China. They caught the virus from an intermediary who didn't even know they were infected.
The complacent are looking at cases and carriers that are known, not the cases and carriers which are unknown. Since asymptomatic carriers can spread the pathogen, the majority of carriers remain unknown. Since not every symptomatic carrier chooses to go to the hospital, many cases remain unknown.
In sum, the complacent are clueless. The eventual price of substituting magical thinking and survivorship bias for actual evidence will be far higher than the complacent realize. Playing games with statistics and high finance will not limit the spread of the virus or limit its profound economic impact.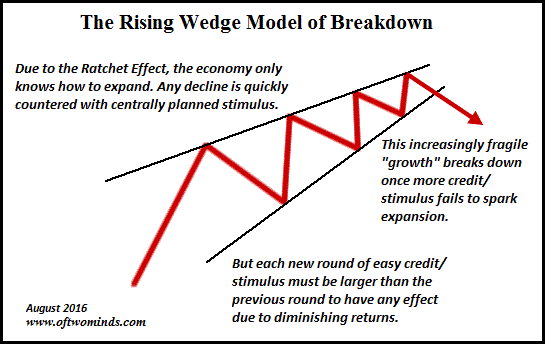 * * *
The Covid-19 outbreak in China is quickly spreading worldwide, sparking quick calculations on how deadly this new disease is. One measure is called a case fatality rate. While the formula is simple, it's difficult to get a precise answer. HYACINTH EMPINADO/STAT
The computers that run disease models grind through calculations that reflect researchers' best estimates of factors that two Scottish researchers identified a century ago as shaping the course of an outbreak: how many people are susceptible, how many are infectious, and how many are recovered (or dead) and presumably immune.
That sounds simple, but errors in any of those estimates can send a model wildly off course. In the autumn of 2014, modelers at CDC projected that the Ebola outbreak in West Africa could reach 550,000 to 1.4 million cases in Liberia and Sierra Leone by late January if nothing changed. As it happened, heroic efforts to isolate patients, trace contacts, and stop unsafe burial practices kept the number of cases to 28,600 (and 11,325 deaths).
To calculate how people move from "susceptible" to "infectious" to "recovered," modelers write equations that include such factors as the number of secondary infections each infected person typically causes and how long it takes from when one person gets sick to when the people she infects does. "These two numbers define the growth rate of an epidemic," Vespignani said.
The first number is called the basic reproduction number. Written R0 ("R naught"), it varies by virus; a strain that spreads more easily through the air, as by aerosols rather than heavier droplets released when an infected person sneezes or coughs, has a higher R0. It has been a central focus of infectious disease experts in the current outbreak because a value above 1 portends sustained transmission. When the R0 of Covid-19 was estimated several weeks ago to be above 2, social media exploded with "pandemic is coming!" hysteria.
But while important, worshipping at the shrine of R0 "belies the complexity that two different pathogens can exhibit, even when they have the same R0," the Canadian-U.S. team argues in a paper posted to the preprint site medRxiv. Said senior author, Antoine Allard of Laval University in Quebec, "the relation between R0, the risk of an epidemic, and its potential size become less straightforward and sometimes counterintuitive in more realistic models."
To make models more realistic, he and his colleagues argue, they should abandon the simplistic assumption that everyone has the same likelihood of getting sick from Covid-19 after coming in contact with someone already infected. For SARS, for instance, that likelihood clearly varied.
"Bodies may react differently to an infection, which in turn can facilitate or inhibit the transmission of the pathogen to others," Allard said.

"The behavioral component is also very important. Can you afford to stay at home a few days or do you go to work even if you are sick? How many people do you meet every day? Do you live alone? Do you commute by car or public transportation?"
When people's chances of becoming infected vary, an outbreak is more likely to be eventually contained (by tracing contacts and isolating cases); it might reach a cumulative 550,000 cases in Wuhan, Allard and his colleagues concluded. If everyone has the same chance, as with flu (absent vaccination), the probability of containment is significantly lower and could reach 4.4 million there.
Or as the researchers warn, "the outbreak almost certainly cannot be contained and we must prepare for a pandemic …."
Modelers are also incorporating the time between when one person becomes ill and someone she infects does. If every case infects two people and that takes two days, then the epidemic doubles every two days. If every case infects two people and they get sick four days after the first, then the epidemic doubles every four days.
This "serial time" is related to how quickly a virus multiplies, and it can have a big effect. For a study published this month in Annals of Internal Medicine, researchers at the University of Toronto created an interactive tool that instantly updates projections based on different values of R0 and serial interval.
Using an R0 of 2.3 and a serial interval of seven days, they project 300,000 cases by next week. If the serial interval is even one day less, the number of cases blasts past 1.5 million by then. But if the countermeasures that China introduced in January, including isolating patients, encouraging people to wear face masks, and of course quarantining Wuhan, reduce the effective reproduction number, as has almost certainly happened, those astronomical numbers would plummet: to 100,000 and 350,000 cases, respectively.
Just as public health officials care how long someone can be infected without showing symptoms (so they know how long to monitor people), so do modelers. "When people are exposed but not infected, they tend to travel and can't be detected," Vespignani said. "The more realistic you want your model to be, the more you should incorporate" the exposed-but-not-ill population. This "E" has lately become a fourth category in disease models, joining susceptible, infectious, and recovered.
At Los Alamos, Del Valle and her colleagues are using alternatives to the century-old susceptible/infectious/recovered models in hopes of getting a more realistic picture of an outbreak's likely course. A bedrock assumption of the traditional models is "homogeneous mixing," Del Valle said, meaning everyone has an equal chance of encountering anyone. That isn't what happens in the real world, where people are more likely to encounter others of similar income, education, age, and even religion (church pews can get crowded).
"Ideally, you'd break the population into many groups" and estimate the likelihood of each one's members interacting with each other and with every kind of outsider, Del Valle said.

"Your model would become more accurate."
Called "agent-based models," they simulate hypothetical individuals, sometimes tens of millions of them, as they go about their day. That requires knowing things like how many people commute from where to where for work or school, how they travel, where and how often they shop, whether it's customary to visit the sick, and other key details. Computers then simulate everyone's movements and interactions, for instance by starting with one infected person leaving home in the morning, chatting with other parents at the school drop-off, continuing to work on a bus, standing 2 feet from customers and colleagues, and visiting a pharmacy for her migraine prescription.
The models keep track of people second by second, said Los Alamos computer scientist Geoff Fairchild, "and let you assess the impact of different decisions, like closing schools during flu season." (Some research shows that can dampen an outbreak.) Although "agent-based models can simulate reality better," he said, they are less widely used because they require enormous computing power. Even on the Los Alamos supercomputer, a single run of a complicated model can take days or even weeks — not counting the weeks of work modelers spend writing equations to feed the computer.
The Los Alamos researchers are still wrestling with their Covid-19 model, which is showing – incorrectly – the outbreak "exploding quite quickly in China," Del Valle said. It is overestimating how many susceptible people become infected, probably because it's not accurately accounting for social isolation and other countermeasures. Those seem to have reduced R0 toward the lower range of 2-to-5 that most modelers are using, she said.
In the current outbreak, researchers are building models not only to peek into the future but also to reality-check the present. Working backward from confirmed infections in countries other than mainland China, researchers at Imperial College London who advise the World Health Organization estimated that Wuhan had 1,000 to 9,700 symptomatic cases as of Jan. 18. Three days later, all of mainland China had officially reported 440 cases, supporting the concerns of global health officials that China was undercounting.
In a more recent model run, Jonathan Read of the England's University of Lancaster and his colleagues estimated "that only about 1 in 20 infections were being detected" in late January, Read said: There were probably 11,090 to 33,490 infections in Wuhan as of Jan. 22, when China reported 547 cases.
"It highlights how difficult it is to track down and identify this virus," Read said, especially with residents of quarantined Wuhan being turned away from overwhelmed hospitals and clinics without being tested for the virus. Using a similar approach, modelers led by Dr. Wai-Kit Ming of Jinan University in Guangzhou estimated that through Jan. 31, China probably had 88,000 cases, not the 11,200 reported.
Read's group is updating its model to estimate the fraction of true cases in February; China's cumulative cases topped 60,000 on Thursday.
For modelers, a huge undercount can corrupt the data they base their equations on. But even with that disadvantage, the Covid-19 models "are doing quite well, despite a lot of complicated dynamics on the ground," said Los Alamos's Fairchild. While it's not clear yet if they've nailed the true numbers of cases, they are correctly projecting the outbreak's basic shape: increasing exponentially, the number of cases growing more quickly the more cases there are.
The World Health Organization has held talks with tech giants to stop the spread of coronavirus "misinformation," despite the fact that some things once labeled "misinformation" have since turned out to be true.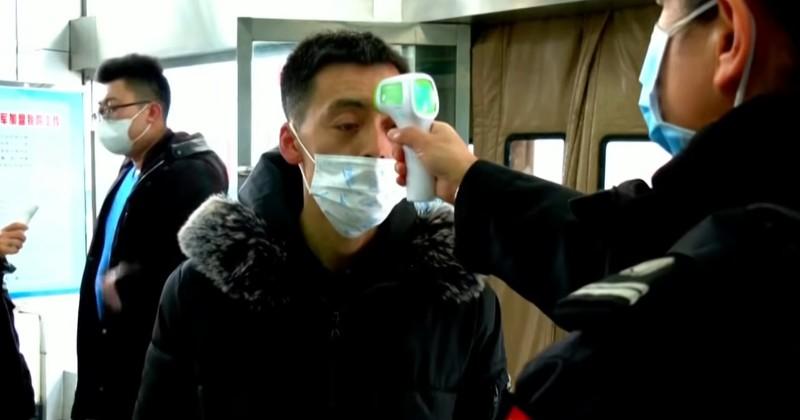 The meeting was organized by the WHO but hosted by Facebook at its Menlo Park campus in California. Attendees included representatives from Amazon, Twilio, Dropbox, Google, Verizon, Salesforce, Twitter, YouTube, Airbnb, Kinsa and Mapbox.
According to the WHO's Andy Pattison, an "infodemic" of misinformation has accompanied the coronavirus outbreak and big tech giants need to respond by censoring "fake news" content.
Both Facebook and Twitter already announced that they would remove content deemed to be misinformation regarding the virus, a dangerous new lurch to mass censorship given that what is considered "misinformation" is totally subjective and beholden to partisan bias.
Two clear examples of "misinformation" surrounding the coronavirus subsequently turned out to be true.
Paul Joseph Watson✔@PrisonPlanet
Once again, the media defamed anyone who even talked about the bio-lab in Wuhan as a fake news conspiracy theorist.

Now biological scientists from the prestigious South China University of Technology have concluded that coronavirus came from a bio-lab in Wuhan.

Retractions?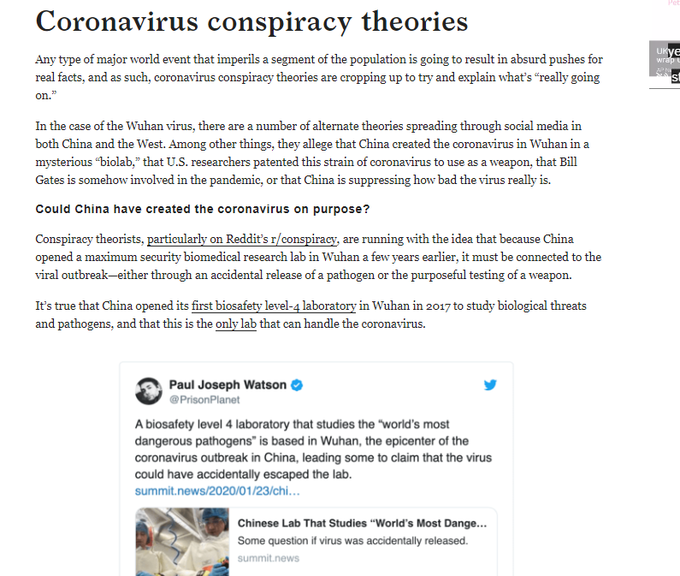 6,2157:41 AM – Feb 17, 2020Twitter Ads info and privacy2,980 people are talking about this
The first example claimed that China was hiding the true number of coronavirus victims, once labeled a "conspiracy theory" by the media but subsequently proven accurate on Friday when 14,800 new coronavirus cases were reported in a single day.
The Death Of Free Speech: Zuckerberg Asks Governments For Instructions On "What Discourse Should Be Allowed"
The second example was suspicions that the virus could have emerged from a bio-safety level 4 research lab in Wuhan.
This contention has been aggressively attacked by the media and big tech giants – Zero Hedge was even banned by Twitter for reporting it – but a new study by scientists at the prestigious South China University of Technology in Guangzhou has confirmed that "the killer coronavirus probably originated from a laboratory in Wuhan."
Chinese dissidents and others have been defamed and in some cases imprisoned by authorities, but the media continues to treat any questioning of the official Chinese Communist Party narrative with disdain.
MSM, High-Tech & Reddit Engaged in Heavy Censorship of Truthful News Sources
StevieRay Hansen
Editor, HNewsWire.com
Google, No More Electronic Prison: You will see many changes on HNewsWire, one of those changes will be to eliminate Google Ads, the other difference, HNewsWire will NOT post videos on YouTube, it is no longer a question about overreach by the un-godly big tech tyrants. There is no question Big Tech can and will persecute any opposing opinion, they will demoralize, sideline truth seekers and those that speak the truth. The People's Blood is on big tech and mainstream media's hands. Censorship has NOT worked for thousands of years, their evil tactics will not work now, history proves me right, so we watch the drama play out between good (GOD) and evil ( Big Tech MSM ), God has never failed his people, and God will not fail this time…
StevieRay Hansen
The Un-Godly — Those That Suppress the Truth, the social media giants built multi-billion dollar empires by giving everyone a voice, but now that they have such a dominant position on the Internet they have decided that many prominent conservative voices should be completely silenced.
In order for sin to work, there has to be a "suppression of the truth."
The World leaders Are Having Trouble With The Truth, and The World Has been "Quarantined" Tribulation Is Here…
Question — Why Are These High-Tech Conglomerates Afraid of the Truth? The answer, Because They Know the American People Have Become Lazy, Like Sheep They Need a Leader and They Chose High-Tech, It Will Be the Downfall of This Country Unless the People Change Course or the Mindset of These High-Tech Elitists stop suppressing the truth. If the people don't wake-up, they will begin to live in the worst nightmare of their lives, "Lost Social Media Reality"…
Demon Virus
Asked about the virus while traveling abroad last week, Trump said: "We have it totally under control". In a separate Twitter posting, he offered reassurance but scant detail for his confidence. By Associated Press Updated On: 05:53 PST, Jan 31, 2020
Yes, are we seeing a slowdown in new virus cases reported this morning. We now have 31,481, which does show a day-to-day decline away from an exponential rate of growth if accurate. Yet for those market participants merrily saying this is "just the flu" (there are some) we also have 4,824, 15% of the total, in critical condition and 638 deaths. Further, one arguably cannot measure the death-rate of any virus against the number of currently sick people: you surely measure it against those who eventually recover vs. those who don't. Given we have 1,563 who have recovered vs. 638 dead (and 4,824 critical) that is a worrying ratio of 29% dead as an end-outcome, which is right up there with the MERS virus from a few years ago – although, yes, there is real reason for us all to hope that number will decline sharply as milder cases will be fully curable. But the simple flu this is not.
WASHINGTON: Wuhan coronavirus: Donald Trump says deadly outbreak 'very well under control' as WHO declares a global emergency. President Donald Trump regaled a friendly New Jersey campaign crowd with his thoughts about impeachment, the economy, the border wall, local politics and much more.
But he was conspicuously quiet on January 28 about one big issue keeping much of the globe on pins and needles: the spread of a deadly new type of coronavirus. It has killed more than 170 people in China, sickened thousands more there and led to a handful of confirmed cases in the US, including the first US case of person-to-person transmission reported on by health officials. The State Department on January 30 advised all US citizens against traveling to China.
Trump, a self-described germaphobe, generally has discussed the virus in broad terms, but he offered some of his most extensive comments on the issue to date during an appearance on January 30 at a Michigan manufacturing plant. "Hopefully, it won't be as bad as some people think it could be, but we're working very closely with them (Chinese) and with a lot of other people and a lot of other countries, he said. "We think we have it very well under control."
The Birth Pains Are Growing Stronger….
One of the signs of ruling class collapse is when they can no longer enforce the rules that maintain them as a ruling class. When the Romans started making exceptions to republican governance, it was a matter of time before someone simply decided the rules no longer applied to them. Perhaps the robot historians will consider Obama our Marius or Sulla. Maybe that person is in the near future. Either way, the rule of law is over and what comes next is the rule of men.
"Man will ultimately be governed by God or by tyrants." as in Nancy Pelosi (D-San Fran-feces)
Our government has been overthrown. As evidenced by Trump's capitulation on the border, his recent servitude to the GMO industry and his acquiescence to the warmongers, our President has been compromised. Our liberties are being eliminated one by one. Gun confiscation is next. The Constitution is gasping its last breaths. Our borders are destroyed and our culture has been turned upside down by every perversion known to man.
The watchman does not confuse truth with consensus. The Watchman does not confuse God's word with the word of those who happen to hold power at present, or with the opinion of the majority. This is because powerholders and the majority can fall victim to a lying spirit-and this means a power that actually seizes the majority of experts, the political leadership, and the public.
Everything is right on schedule and, now, the time is come to remove one of the final obstacles standing in the way of a New World Order: The United States Constitution – even if, over the course of many decades, it has already been greatly diminished by the B.E.A.S.T. system; or, more specifically, Bullshit Emerging As Strategic Totalitarianism (B.E.A.S.T.).
They are tolerant of everything except dissenting values and opinions — meaning, of course, they are tolerant of nothing that matters, only themselves."
Let Me Make This Abundantly Clear. (I Am Apolitical) While I Have a General Distaste for Electric Cars and Politicians No Matter the Party They Belong To, I Am Unashamedly Politically a Bible Believing Conservative Christian. I Have a Severe Distrust of Government. I Believe It Is the Most Inefficient and Ineffective Way to Accomplish Most Things. While I Strongly Disagree with Liberals/Progressives and Conservative on Most Political Issues, and While I Believe Liberals/Progressives and Most Politicians Are Misguided and Naive About What Big Government Will Eventually Result In, I Strive to Not Question Their Motives. At the Same Time, I Find Myself in Agreement with Conservative on Some Issues, and I Do Not Believe Electing Republicans Is the Answer to Everything. Sadly, the Main Difference Between Republicans and Democrats Is How Quickly They Want to Drive the Car Towards the Cliff. Put, I Do Not Believe the Government Is the Solution for Everything. I Do Not Place Any Faith, Trust, or Hope in Any Politicians to Fix What Is Wrong with the World. "Come Lord Jesus!" (Revelation 22:20) SRH…
The Watchman does not confuse truth with consensus. The watchman does not confuse God's word with the word of those who happen to hold power at present, or with the opinion of the majority. This is because powerholders and the majority can fall victim to a lying spirit-and; this means a power that seizes the majority of experts, the political leadership, and the public.StevieRay Hansen
If you have a news scoop or an interesting story for us, please reach out at [email protected]
Covid-19, Biological Weapon, Coronavirus, Falsifying Death Toll From Coronavirus, biblical truth, Prophecy, tribulation, antichrist, United Nations Revelation 17 the BEAST+ B.E.A.S.T, US Coronavirus, demon virus, CDC, WHO, end times, No More Electronic Prison, Birth Pains, MSM, High-Tech & Reddit Engaged in Heavy Censorship of Truthful News Sources
The Land of the Free doesn't give a rat's-arse how they are perceived anymore.
Daily Devotional: Now, world oligarchs are attempting to reorganize the world's geography, install new leaders, and establish a "New World Order." But, according to C.S.…
Read More
We make every effort to acknowledge sources used in our news articles. In a few cases, the sources were lost due to a technological glitch. If you believe we have not given sufficient credit for your source material, please contact us, and we will be more than happy to link to your article.